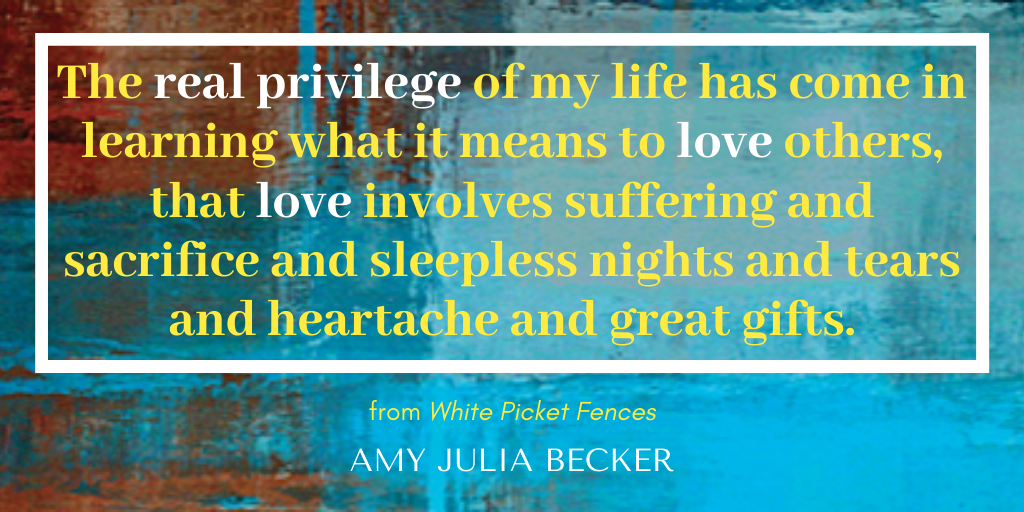 The real privilege of my life has come in learning what it means to love others, that love involves suffering and sacrifice and sleepless nights and tears and heartache and great gifts. — Amy Julia Becker in White Picket Fences
This month I am celebrating the one year anniversary of the release of my book White Picket Fences: Turning Towards Love in a World Divided by Privilege.
I've had the chance this year to speak about privilege at the Q conference and write about what privilege is and is not, and speak on several podcasts about the topic. But it isn't just privilege that I want to start a conversation about. I also want to talk about love. Our family motto has become "Love is Stronger Than Fear," and we seek to live that out. Typically privilege and love are mutually exclusive. But as this quote suggests we need to recognize what real privilege is about is actually sacrificial love.
If you want to know more why I chose to write a book about privilege and love, check out this post.  And if you've read White Picket Fences and are interested in sharing the book with others via a book club or discussion group, check out my discussion guides which are formatted for one, three or 7 session discussions.
If you haven't already, please subscribe to my newsletter to receive regular updates and news. You can also follow me on Facebook, Instagram and Twitter.