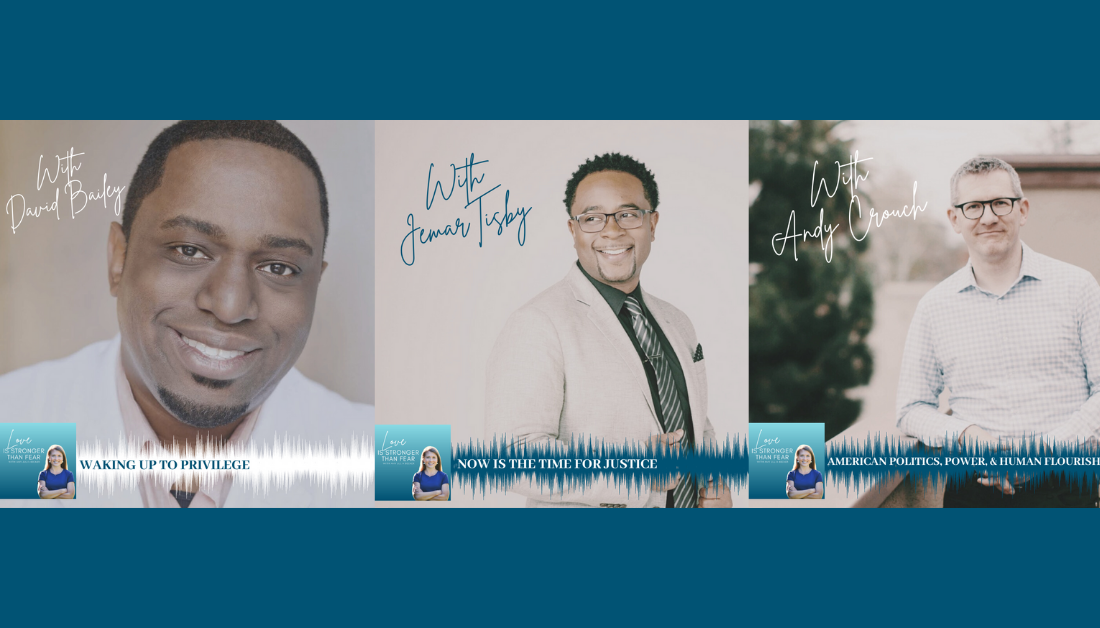 Here are the top three episodes from Season 3 of my Love Is Stronger Than Fear podcast based on audience downloads! Now is a great time to get caught up on Season 3 because…Season 4 is coming soon in 2021. Can't wait to share all the details about the new season!⁠ ⁠
"Race, class, and the kingdom of God all come up in this conversation between Amy Julia and David Bailey, Director of Arrabon, a ministry to help churches become reconciling communities. David and Amy Julia talk about why white people can feel afraid to enter into conversations about race, the controversies over Confederate monuments in David's hometown of Richmond, Virginia, whether this moment of protest and activism will translate into lasting social change, and more."⁠
"How do we find hope, particularly in white American churches, when our history and identity is intertwined with racism? How does knowing who we were—and who we are—help us move toward justice and who we want to become? I talk with historian Jemar Tisby, New York Times bestselling author of The Color of Compromise, about racism's past and present reality, his sense of a growing darkness, and also where he sees hope."⁠
"Is there hope for power, politics, and privilege to foster human flourishing? Andy Crouch, author of Strong and Weak, talks with Amy Julia about the paradox of authority and vulnerability, how political leaders can use power and risk for the good of humanity, the distinction between blessing and privilege, and pragmatic ways to contribute to human flourishing.⁠"
Listen to these episodes using the links above or by searching LOVE IS STRONGER THAN FEAR WITH AMY JULIA BECKER wherever you get your podcasts!⁠ Or listen online here.
---
Continue reading with Amy Julia:
If you haven't already, please subscribe to receive regular updates and news. You can also follow me on Facebook, Instagram, and Twitter, and you can subscribe to my Love is Stronger Than Fear podcast on your favorite podcast platforms.