Invite Amy Julia to Speak at Your Next Event!
Receive monthly updates and bonus content.
Amy Julia speaks across the country at conferences, retreats, churches, universities, schools, and colleges as a keynote speaker, workshop and retreat presenter, panel guest, and online presenter.
A graduate of Princeton University and Princeton Theological Seminary, Amy Julia is an award-winning writer and speaker on faith, disability, and family. She is the author of four books, including To Be Made Well: An Invitation to Wholeness, Healing, and Hope. In addition to guest writing for national publications such as the New York Times, she hosts the Love Is Stronger Than Fear podcast.
Recent Conferences & Topics:
Hope Heals: Disability and Practicing Resurrection
Eastern Mennonite University & Seminary: Creating Communities of Belonging
Blacknall Memorial Presbyterian Women's Retreat: To Be Made Well
Asbury University: Bringing Our Brokenness Under God's Blessing
Yale Divinity School: Name It, Heal It Series
Q Ideas: Healing the Wounds of Privilege
Institute on Theology and Disability: Identity and Ability
Festival of Faith and Writing
Heal and Hope Clergywomen Retreat
Palms Presbyterian Church: Becoming Places of Belonging
4 Steps Towards Healing
Receiving and Participating in the Love of God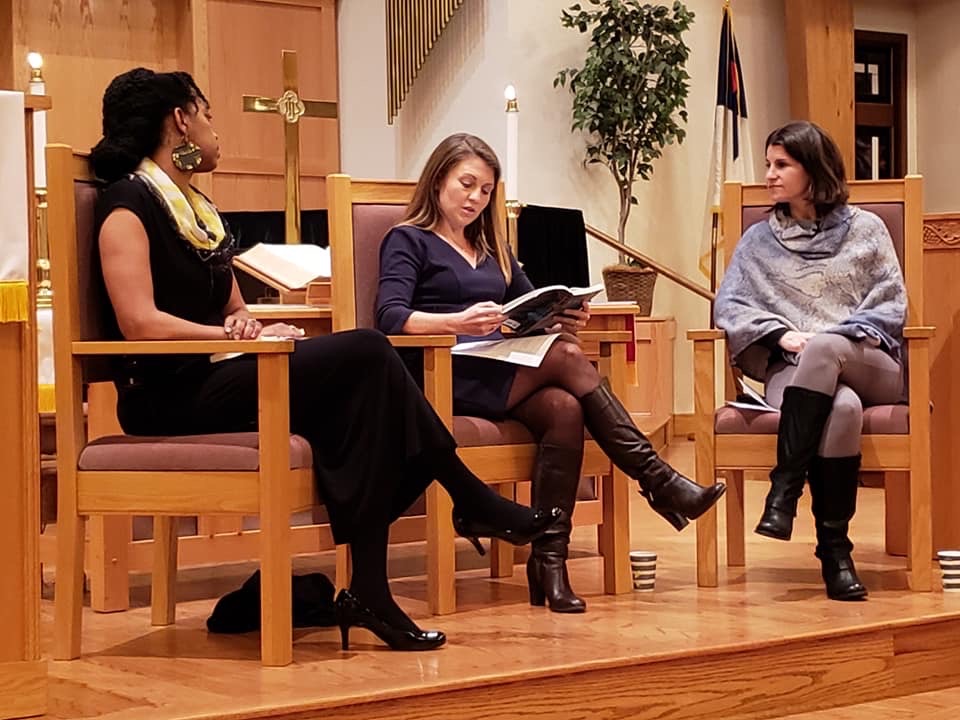 Amy Julia was the ideal choice to work with our school in the culminating event of our yearlong exploration of "Ability" as our school's diversity theme. Working with parents and students, Amy Julia used her personal story as a lens through which others could engage with concepts of privilege, equity, love, and identity. Her words and her wisdom were powerful.
I could listen to Amy Julia speak all day. In addition to her extraordinary poise and thoughtfulness, she possesses a rare combination of clarity and gentleness which allows her to parse difficult subjects with real grace, such that ears are opened and walls come down. Prepared yet present, sharp yet full of heart, she is a communicator of the highest order.
Amy Julia is a compelling and engaging speaker. She speaks generously from her personal experience and encouraged our team to think about the various forms of privilege that impact our lives and work with students . . . The feedback from our faculty and staff was extremely positive, the biggest "complaint" was that they wished the session had been longer.
Amy Julia has such clarity of expression in the middle of complexity. She has a graciousness of spirit that creates a place for all kinds of folks to gather in conversation.
In a world of too much information on the one hand and too much sentimentally on the other, I am so grateful for a communicator like Amy Julia who both stimulates the mind and stirs the heart.
Self-examination, confession, and transformation are three gifts God has given Christians to live a life full of meaning. Amy Julia's writing and speaking always challenges her audience to not rob themselves of a superficial life. Out of her self-examination, confession, and transformation she invites her audience on a journey to learn how to live a life worthy of giving it away.
Videos of Amy Julia Speaking
Upcoming Speaking Schedule
Matthews United Methodist Church | 801 South Trade Street Matthews, NC 28105
Calvin University | 3201 Burton St SE, Grand Rapids, MI 49546
No event found!
Her unique gifting to be able to give words to our shared experiences allows her to be seen as a trusted friend and guide for the journey.
Amy Julia is a brilliant writer who tackles difficult topics with wit, warmth and intellect. She connects with her listeners immediately as she shares stories of her personal journey to become more rooted in God's love. She was the perfect keynote speaker for our women's spiritual event. I highly recommend her.
A gifted communicator, Amy Julia combines razor-sharp intellect and pastoral presence which afford a much needed clarity to otherwise complex and contentious issues. For this reason and others, her voice has a particular relevance for our present moment.