"Amy Julia has written a beautiful book, grounded in the person of Jesus and the healing he brings. This is not a book with a before-and-after story of miraculous healing; it is a book about how we live in a fractured world with bodies that bear on and in them the brokenness of living. It is a book about how we see Jesus and how he sees us and how his love heals us just a little bit more each day."

-Lore Ferguson Wilbert, author of A Curious Faith: The Questions God Asks, We Ask, and We Wish Someone Would Ask Us; Handle With Care: How Jesus Redeems the Power of Touch in Life and Ministry
When I was researching for To Be Made Well, I read a book called God's Hotel, where Dr. Victoria Sweet studies medieval healing practices as a part of restoring her patients to health and wholeness.
Dr. Sweet writes about how important time was in her patient Terry's healing. Terry first came to the hospital as a heroin addict who had been living on the streets. Eventually one of her wounds deteriorated so much that the skin tissue decayed all the way to the bone. 
It took two and a half years for her sore to heal. For Terry, it wasn't just the new skin and tissue and muscle that needed to grow, but she needed her soul, her sense of self to regenerate so that she could be made well. 
That's how Jesus' healing works too. It is generative, and, even when a miracle speeds along the physical change, Jesus walks with us through the emotional and spiritual healing we also need and that can only happen with the gentle, patient, steadfast love that can only be demonstrated in time. Healing begets healing, just a little bit more each day.
Thank you, Lore Ferguson Wilbert, for your kind and thoughtful words!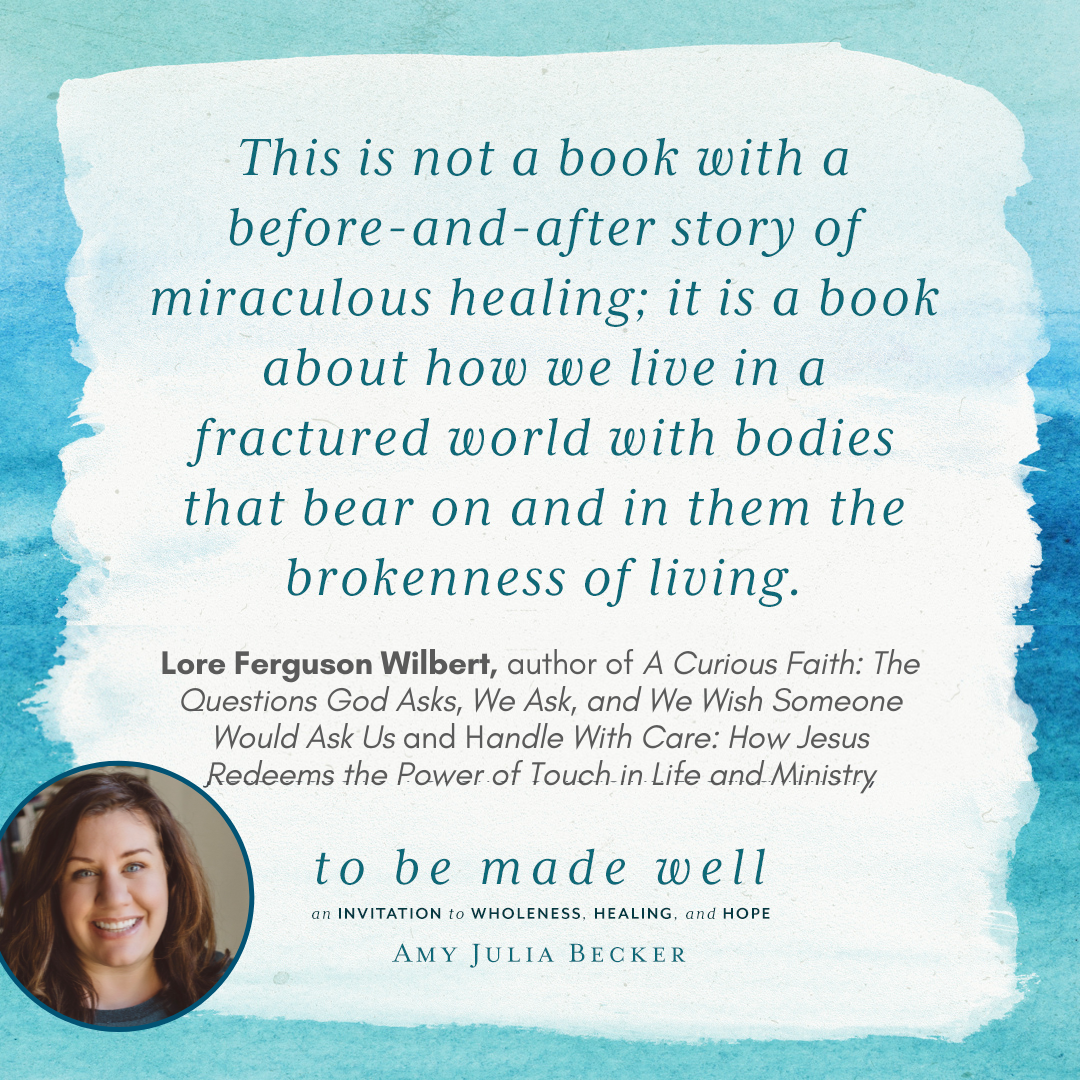 ---
This post contains affiliate links.
More with Amy Julia:
If you haven't already, you can subscribe to receive regular updates and news. You can also follow me on Facebook, Instagram, Twitter, Pinterest, YouTube, and Goodreads, and you can subscribe to my Love Is Stronger Than Fear podcast on your favorite podcast platform.