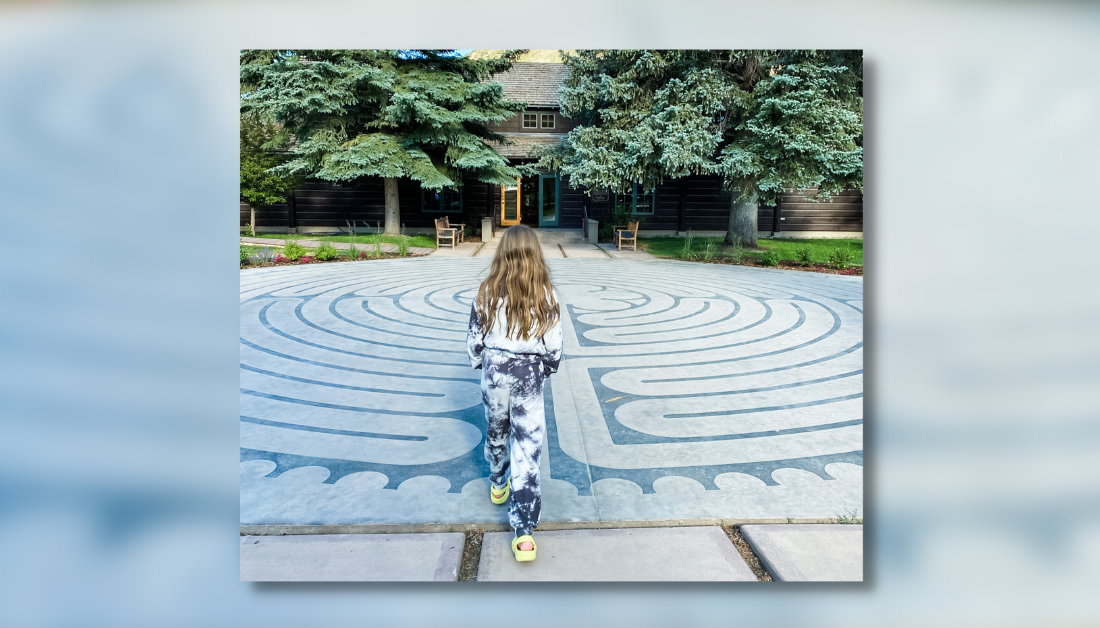 Marilee and I walked this labyrinth together a few weeks back. I wanted to linger. She zipped along. I explained that labyrinths aren't the same as mazes. No branches or dead ends. Only one way in, which is also the one way out. You can find them in churches. You can trace your finger along a printed version or walk through one rolled out on a floor or etched into stone. 
Labyrinths and Life
As the two of us walked, we talked about the different stages of life. How when we're little we feel as though we are racing in a straight line to the center, the destination. And then the teenage years come, and we take an abrupt turn and everything gets thrown upside down. And how this curving reality repeats itself again and again. When we had our first child. When we had our second child. When, in her telling of the story of my life, we got a dog. (We don't have a dog or any plans for a dog but Marilee very much wants me to believe that a dog will throw my life into chaos only to then bring me firmly to the center. I disagree, but she did get me laughing in the middle of my contemplative walk!)
Labyrinths and Prayer
I used to be really skeptical of labyrinths, but now I see them as a guide to prayer. The idea is that you can walk the labyrinth and pray as you walk. It's a form of embodied prayer and a way to physically remember that life—even (especially!) the spiritual life—doesn't operate in a straight line.
The journey through life is more like a circle, and yet it is a circle that has an ultimate direction. It is not endless repetition, but guided wandering. With lots of doubling back and falling away from the center and being led back, again and again.
---
Learn more with Amy Julia:
If you haven't already, you can subscribe to receive regular updates and news. You can also follow me on Facebook, Instagram, Twitter, Pinterest, YouTube, and Goodreads, and you can subscribe to my Love Is Stronger Than Fear podcast on your favorite podcast platforms.