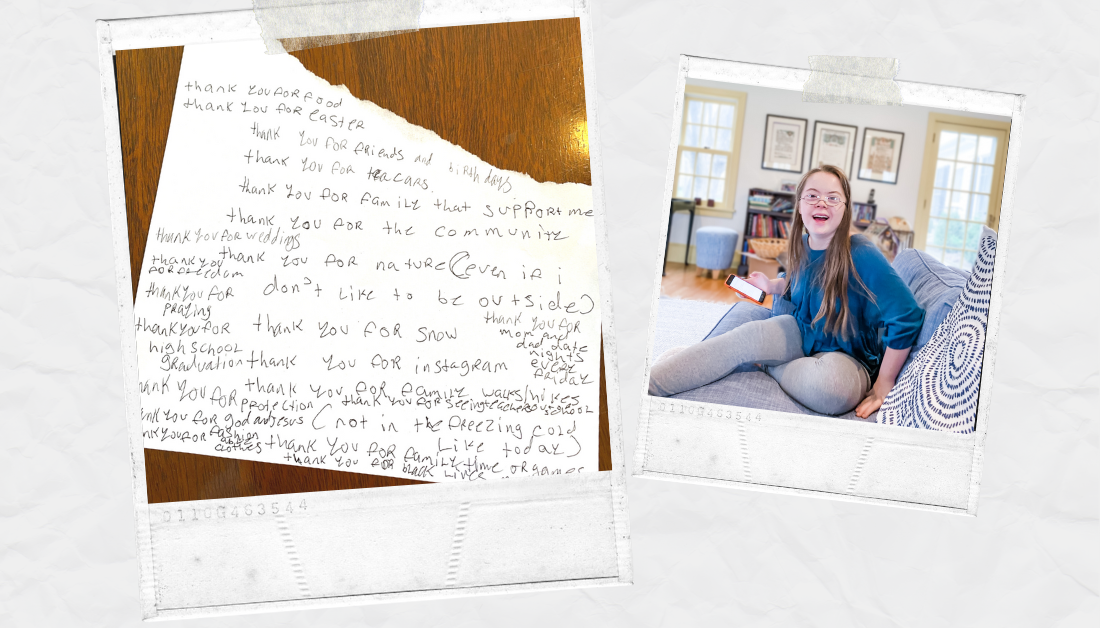 Penny expresses gratitude with abandon.
Every Sunday morning throughout the pandemic, we have each written down our thanksgivings on an index card (see picture above). We do this, per our pastor's suggestion, as our weekly "offering." 
And every week, I struggle to come up with a handful, while Penny's list overflows. She knows how to pour out gratitude. 
So maybe it wasn't a mistake that she taught me something else about gratitude on a Friday night, when Peter and I were eating dinner together. 
It had been a rough week of writing rejection for me. I said, with some measure of shame, "I always thought I would do something great." Peter pushed back a bit, noting that we've got three great kids. I've written some great books. I've received great responses to my work. 
But even as he talked, my eyes welled up with tears. I once again struggled against the fear that my work hasn't been good enough, my words haven't been helpful enough, that I haven't been enough. So I said, "Well, maybe I just need to redefine my understanding of great?"
At that moment, Penny walked into the room. 
"Penny, how do you define great?" Peter asked. 
She had just come home from Jazz class. Her long hair was pulled back in a high ponytail. She wore a t-shirt and leggings and now a quizzical expression on her face. "Grateful?" she said.
How do you define great? Grateful. 
I don't know whether she misheard him, or whether she was answering his question. But I do know that her response was for me.
How do you know you've done enough? By resting in love. How do you trust what the future holds without striving and grasping and manipulating? By letting go. How do you define great? Grateful.
---
To read more with Amy Julia:
If you haven't already, please subscribe to receive regular updates and news. You can also follow me on Facebook, Instagram, Twitter, Pinterest, YouTube, and Goodreads, and you can subscribe to my Love Is Stronger Than Fear podcast on your favorite podcast platforms.