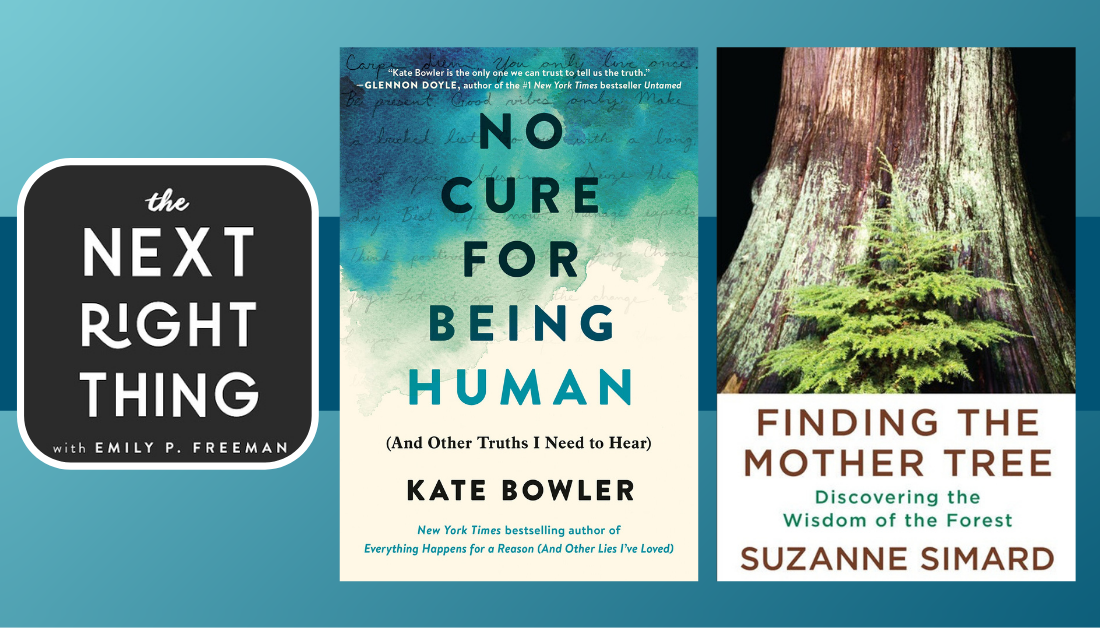 I had totally forgotten that fall is a book publishing bonanza.
There are SO many good books coming out right now, I definitely can't keep up, nor should I be compulsively buying them the way that I am. I did reward myself with a trip to our local independent bookstore the day I submitted my manuscript for To Be Made Well. It seemed fitting. (Amazon affiliate links below.)
---
So, of late, I read Suzanne Simard's Finding the Mother Tree: Discovering the Wisdom of the Forest. To get an inside view on Simard's life work of discovering the interconnected and collaborative nature of trees, fungi, and other plants in the forest gave me a tremendous appreciation for the wonder, beauty, intricacy, and value of creation. This is a long and sometimes head-spinning scientific book (for people like me, who dropped out of science classes in tenth grade). But it is well worth the effort.
---
I also raced through Kate Bowler's No Cure for Being Human (And Other Truths I Need to Hear). I kind of wish I had made myself slow down because I did not want this book to be over so soon. Bowler is an amazing combination of smart and wise and funny and sad and faithful and honest.
Podcast Episode:
I've also really appreciated hearing Kate on various podcasts lately. This episode with Emily P. Freeman might be the most beautifully honest conversation about loss and hope I've ever heard.
---
Books I'm Reading Next
Up next are Colson Whitehead's Harlem Shuffle, Richard Powers' Bewilderment, and Jonathan Franzen's Crossroads.
What are you reading this fall?
---
More Words of Hope with Amy Julia:
If you haven't already, you can subscribe to receive regular updates and news. You can also follow me on Facebook, Instagram, Twitter, Pinterest, YouTube, and Goodreads, and you can subscribe to my Love Is Stronger Than Fear podcast on your favorite podcast platform.
This post contains affiliate links.