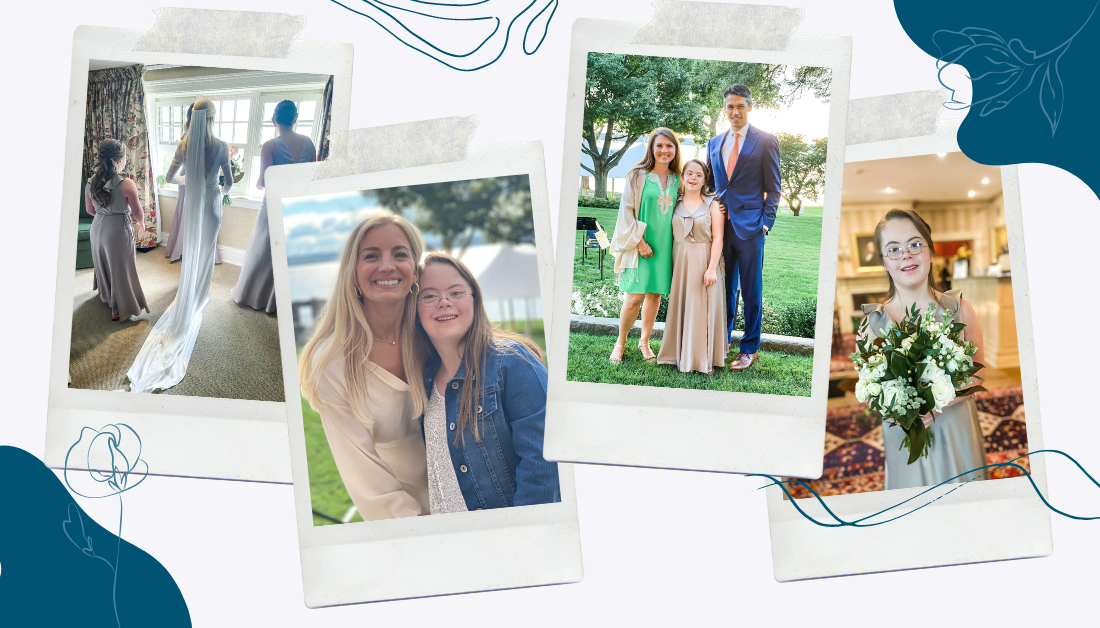 I dream of a world where everyone belongs. 
Last weekend, Penny was a bridesmaid in her old-babysitter-best-friend-for-life's wedding, and I got a little glimpse of the joy of belonging. (Go here for more pictures and a video of Penny's toast!)
We met Maddie when she was 16 and Penny was 18 months old. Not yet walking. Using sign language (kind of) to communicate. Slobbery and smiling and totally enamored with this tall blonde girl who delighted in her.
Maddie babysat every summer through high school and college. After she graduated, she still came to visit us. We went to visit her. She and Penny eventually settled into a weekly Facetime date to discuss boys and food and life.
Maddie emailed me last year to ask if Penny could be a bridesmaid in her wedding. She said she couldn't imagine standing at the altar without Penny by her side.
She Belonged 
And then last weekend, Maddie got married. Penny spent two days among a group of 30-year olds who embraced her in every way. She gave a beautiful toast. She got her hair and makeup done. She cried and laughed and celebrated. She belonged there. As her beautiful, kind, sweet, funny, conscientious self. She belonged.
There was very little mention of God in the whole wedding. But it was a taste of heaven for our family. It was a taste of the day where everyone belongs at the wedding feast to celebrate the Love that connects us all and holds us together.
Belonging and Down Syndrome Awareness Month
Today is the first day of National Down Syndrome Awareness Month. Today I celebrate our daughter and everyone else with Down syndrome. But I am holding out for more than awareness. I continue to dream—for Penny, for her friends, for all the kids and adults who feel like there is no place for them in this world—I continue to dream that they will all experience the sweetness and joy of belonging.
---
Learn more with Amy Julia about belonging and Down Syndrome Awareness Month:
If you haven't already, you can subscribe to receive regular updates and news. You can also follow me on Facebook, Instagram, Twitter, Pinterest, YouTube, and Goodreads, and you can subscribe to my Love Is Stronger Than Fear podcast on your favorite podcast platform.