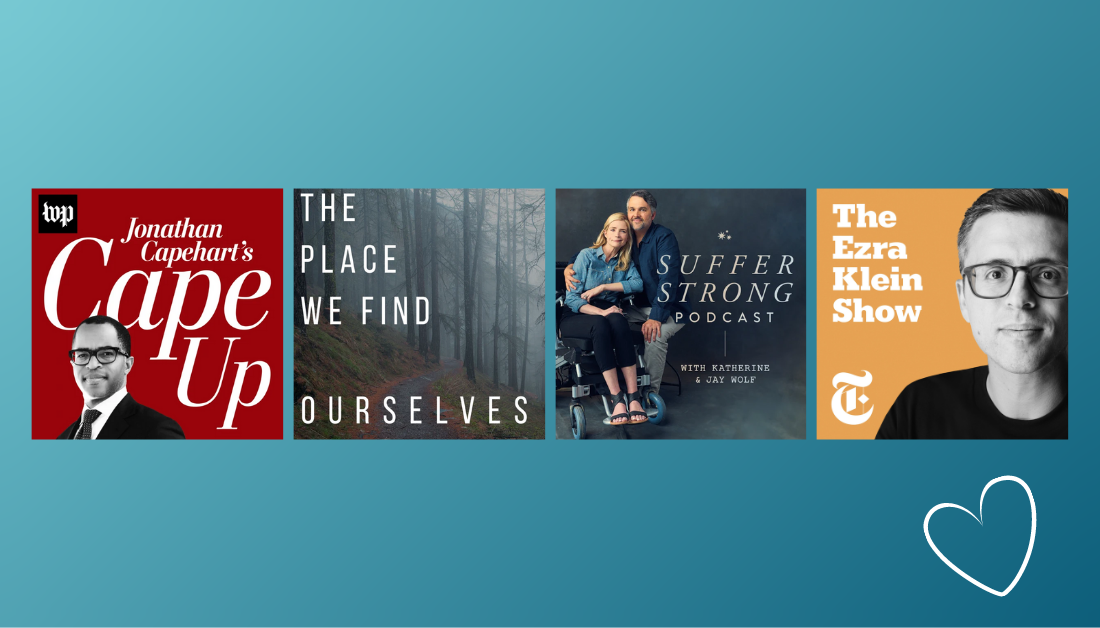 I guess it makes sense that I have healing on my mind right now. I'm not actively working on To Be Made Well for the month of August, but I keep finding myself listening to podcasts about different aspects of healing. Healing from social injustice, healing from addiction, healing from trauma… Here are four of my favorites:
Cape Up with Jonathan Capehart
This is a rerun of Bryan Stevenson talking with Jonathan Capehart. It was really helpful to hear Stevenson describe the Center for Peace and Justice and the EJI Museum in Montgomery, Alabama and why these places matter as a part of our collective healing.
---
The Place We Find Ourselves
This conversation about the way our bodies hold traumatic experiences and what we can do to heal was fascinating to me.
---
Suffer Strong Podcast
And this conversation between Jay and Katherine Wolf and Curt Thompson about the way beauty helps us to overcome shame and experience healing.
---
The Ezra Klein Show
And Ezra Klein's conversation with Bessel van der Kolk, author of The Body Keeps the Score, also looks at how the body experiences trauma and how deep healing can only happen when our bodies are involved. I loved the way Klein summarized van der Kolk's argument:
"The body keeps the score, but the mind hides the score."
In other words, we have to get over the ways our minds ignore and deny and repress harm and learn how to pay attention to the messages our bodies are sending us so that we can begin a process of healing and growth.
---
Learn more with Amy Julia:
If you haven't already, you can subscribe to receive regular updates and news. You can also follow me on Facebook, Instagram, Twitter, Pinterest, YouTube, and Goodreads, and you can subscribe to my Love Is Stronger Than Fear podcast on your favorite podcast platforms.