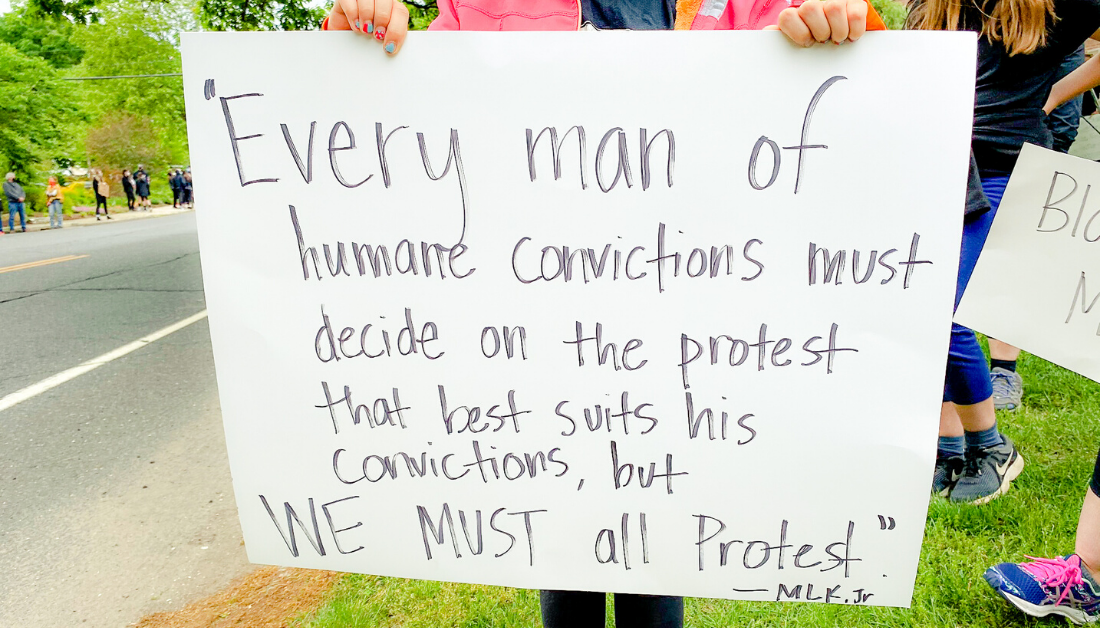 Hope and racism. Ta-Nehisi Coates is feeling hopeful. 
I didn't think I would ever type those words.
Coates is famous for his 2015 memoir, Between the World and Me, in which he explains his hopelessness. When I read his book, I wrote about how grateful I was for his relentless insistence on hopelessness. It helped me to understand the despair of so many Black people in America. 
Hope and Racism
But as Coates talked with Ezra Klein, he talked about hope. About how this moment is different—in scope, in diversity, and in endurance—than any other protest movement in his lifetime. About how he has been learning about the Rev. Dr. Martin Luther King Jr.'s approach to non-violence. About how change might really be possible. There are all sorts of reasons for this, including the faithfulness and perseverance of African American people over generations. But one reason for hope is that white people are waking up to racism. 
Waking Up to Racism
White people are waking up to the enduring legacy of hundreds of years of institutional harm against Black people (and people of color more broadly) in America. White people who have been sleeping fitfully, restlessly, have decided it is time to stop trying to stay asleep. Time to stop taking Ambien. Time to pay attention to injustice. Time to take the first steps. 
Hope and Racism: Small Steps
In the past week, I've had white people share with me stories of their small steps towards change, their small steps of hope: 
One woman told me she has been working for years in a corporate situation where they keep promising to invest in brands with diverse people in leadership, but they have never followed through. Last week, she told her bosses to expect her resignation if they weren't ready to make such investments. 
One woman called her local police department after hearing President Obama suggest such action. She explained that she was a Christian, and a white woman, and grateful for the tremendous sacrifice and care the police demonstrate in her local community. She also explained that she was concerned about the potential for police violence and aggression, and she asked if she could learn more about the department's policies, training, and procedures. They talked for an hour. 
One white man from the south who is in his late 60s wrote to me about understanding this current moment of seeing racism through the lens of privilege and wanting to ask how he could receive and extend God's love. He wrote about seeing the role privilege played in the protests in his city and the racial disparities in health care during the pandemic and he wanted to be on the side of love and understanding.  
Another older white man wrote about how he watched a video of people of color from his alma mater telling their stories. Listening to their stories—different perspectives on a shared experience of the same school—was humbling and "humanizing" for him. 
Another woman told me that she has been advocating for diversity on the non-profit Board of Directors where she serves, and for the first time the board is meeting to discuss a plan for change. 
I joined a group of white people in a protest in our own town, and many of us admitted this was the first time we had ever participated in such an event.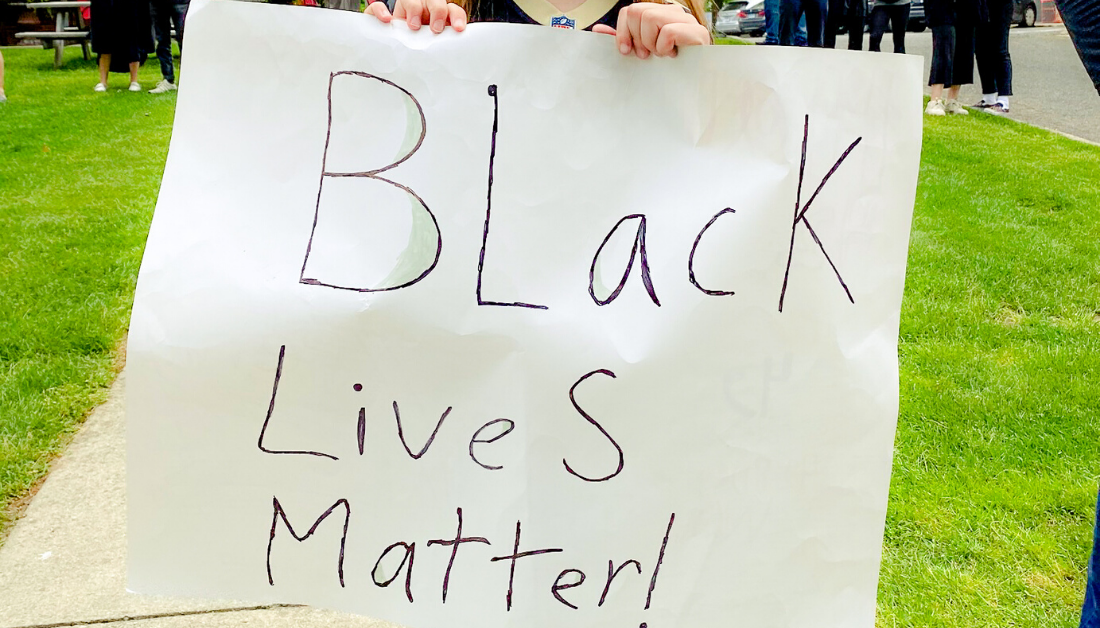 And that's not to mention the parents who have asked for resources for books to read with their kids (we are working on a comprehensive list of all the lists I've put together over the years—stay tuned!), the friends who have asked where they can give money, the moms who are talking with their sons about power and race, and the dads who are asking how their faith can better inform their politics. 
These are small steps. First steps. Hopeful steps.
The Smallest Action
That's the thing about hope. These stories seem so inadequate on their own, in the face of hundreds of years of oppression, when I consider the breadth and depth of change needed. They seem too little and too late. But that's what's so amazing about hope. The smallest action can turn our heads. The smallest action allows us to use our spiritual imagination so that we can envision what it would look like if more and more people take small steps, if more and more people take the next step, if healing could begin to happen. 
Ultimately, our hope does not rest on white people taking small steps. Or on Ta Nehisi Coates changing his perspective. Or even on the tireless, courageous, and faithful prayers and protests of Black people who have been leading us towards hope for many generations. Our hope is built upon the eternal and unchanging Love that holds all things together, and we are invited to live into that hope.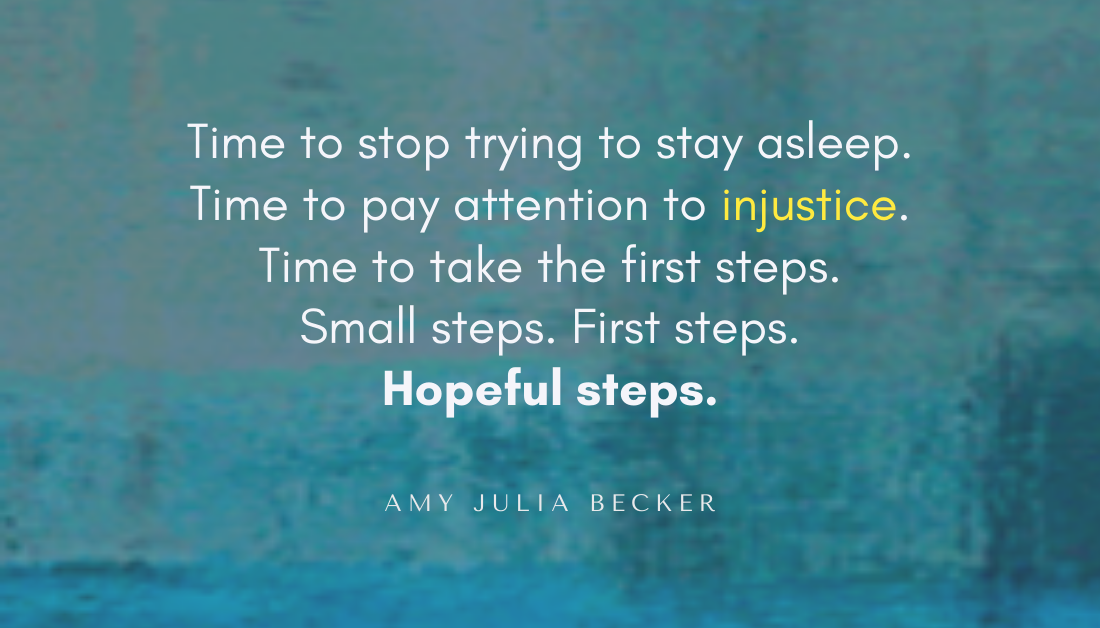 ---
Resources
To read further with Amy Julia:
If you haven't already, please subscribe to receive regular updates and news. You can also follow me on Facebook, Instagram, and Twitter, and you can subscribe to my Love is Stronger Than Fear podcast and my Reading Small Talk podcast on your favorite podcast platforms.