She is the epitome of middle school. Marilee announced last week that we didn't need to read to her before bed any longer. She just finished The Chronicles of Narnia with Peter and Everything Sad is Untrue with me. She's ready to read on her own now, thank you very much. 
Rolled eyes. Short shorts and sweatshirts. Hanging out and chatting with friends during recess instead of playing on the playground.
And still, underneath it all, a girl who needs to know that she is loved for who she is and not for how she looks or whether she has the right sneakers or scores a goal in soccer. 
Peter insists he's going to keep reading to her. She and I have chosen a book to listen to together on our (many) long drives to soccer games. We will still share stories.
I'm working on ways to make trips to the mall and the makeup aisle of CVS a way to connect with her. I'm also working on not matching her energy with my own if she crosses her arms and glares at me as soon as she gets in the car at the end of her school day. 
And then come the moments that aren't intentional, that aren't work in any way. Last night, we were sitting on the couch together texting her brother and dad to tell them we had bought the second season of Abbott Elementary so they should watch the first episode. Autocorrect somehow changed "bought" to "Bourguiba." We laughed so hard we both cried. And every time one of us tried to talk about it, we erupted again. 
She is the epitome of middle school, and I could not love her more.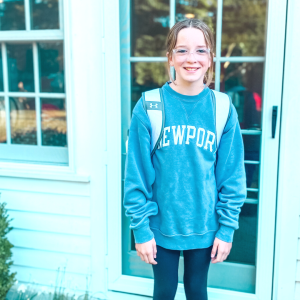 ---
More with Amy Julia:
If you haven't already, you can subscribe to receive regular updates and news. You can also follow me on Facebook, Instagram, Twitter, Pinterest, YouTube, and Goodreads, and you can subscribe to my Love Is Stronger Than Fear podcast on your favorite podcast platform.