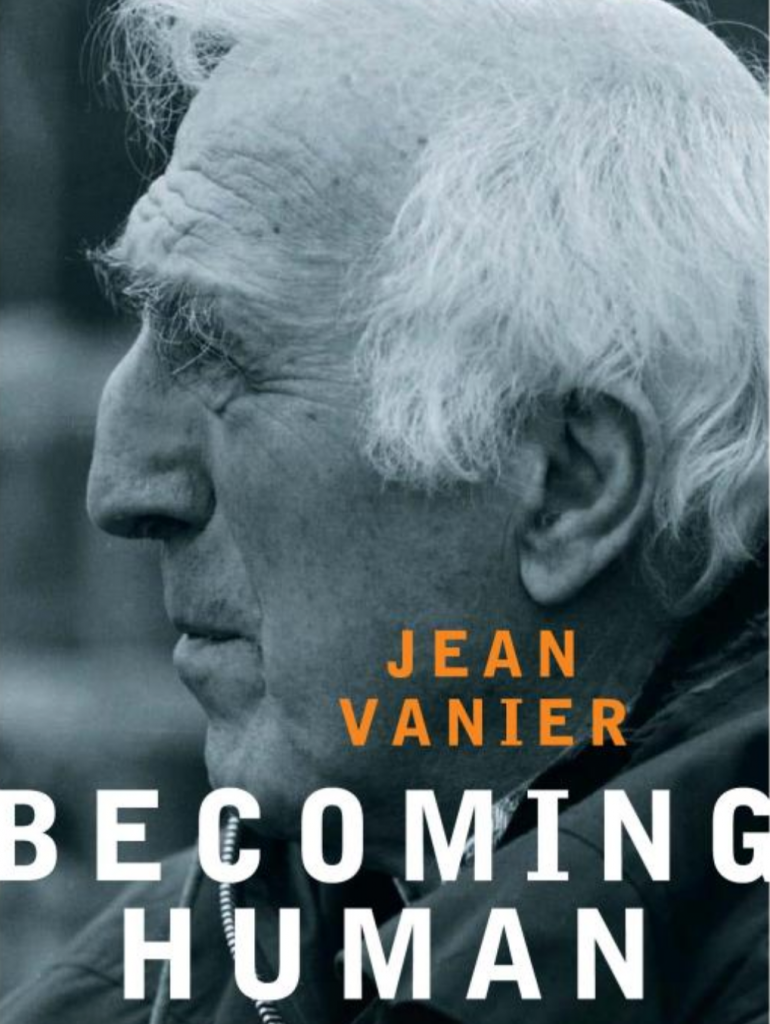 "Love is patient." This simple statement has been on my heart and mind this past week after I learned of the death of Jean Vanier, the founder of the L'Arche communities.
L'Arche is an organization in which people with intellectual disabilities and typical people lived side by side in community, and Vanier wrote about the ways in which these spaces of belonging and friendship (and sadness and suffering and arguing and forgiving and loving and laughing) stand as signs. He wasn't an idealistic dreamer who thought that the "success" of L'Arche was dependent upon everyone living in intentional loving communities. Rather, he saw these communities as visible manifestations of what God looks like, what love looks like. Glimmers of light for those who had eyes to see.  
Vanier wrote many books, and I have read many of them over these past thirteen years of being the mother of a child with a disability. The strange thing about these books is that I often don't realize that I'm learning anything until I walk away from them. Vanier's simple prose and simple stories often leave me waiting for the drama or for the brilliant insight that never comes. And yet, every time, I am changed by what I have read.
I look back on the places where I underlined sentences in Vanier's bestselling book, Becoming Human, and I start to realize how much his patient and gentle words have taught me. To cite a few:
"We human beings are all fundamentally the same. We all belong to a common, broken humanity. We all have wounded, vulnerable hearts…" (37).
"The discovery of our common humanity, beneath our differences, seems for many to be dangerous. It not only means that we have to lose some of our power, privilege, and self-image, but also that we have to look at the shadow side in ourselves, the brokenness, and even the evil in our own hearts and culture; it implies moving into a certain insecurity" (49).
"It is not just a question of performing good deeds for those who are excluded but of being open and vulnerable to them in order to receive the life that they can offer; it is to become their friends" (84).
Over and over again, throughout his many books and speeches, Vanier comes back to love. Love as the basis of all reality. Love as the deepest human need. Love as the greatest gift, the one gift we are all capable of giving to one another.
And love, Paul writes in 1 Corinthians 13, is patient. Love waits. Waits in suffering. Waits in rejection. Waits in anticipation. Love is willing for "progress" to take time. It is willing for time to move slowly. Living among people with intellectual disabilities taught Vanier about the patient, tender, hidden nature of love.
I am only beginning to learn the nature of love. I am far more often impatient. I want problems to be fixed right now. I want to accomplish everything on my to do list today. I want efficiency and speed. But God offers us a different way, a way that is slow and gentle, a way that waits with patience, a way that is more often visible in the lives of people with disabilities than in typical people like me.
A few months ago, a group of faculty members at a Christian college asked me what I would recommend as they tried to have conversations with their students about privilege and racism. I recommended Jean Vanier's books and the theology of disability. In order to understand privilege and racism and all the barriers that divide us, we need to first understand our humanity, and Vanier's work is an invitation into an understanding of common humanity.
In a series of talks between Vanier and Stanley Hauerwas, collected in a book called Living Gently in a Violent World, Vanier writes, "The mystery of people with disabilities is that they long for authentic and loving relationships more than for power. They are not obsessed with being well-situated in a group that offers acclaim and promotion. They are crying for what matters most: love. And God hears their cry because in some way they respond to the cry of God, which is to give love."
Jean Vanier slowed down and learned how to love. He lived that love. He wrote about that love. He received it, and he gave it away.
PS. I share more about Becoming Human in this post.
If you haven't already, please subscribe to my newsletter to receive regular updates and news. You can also follow me on Facebook, Instagram and Twitter.