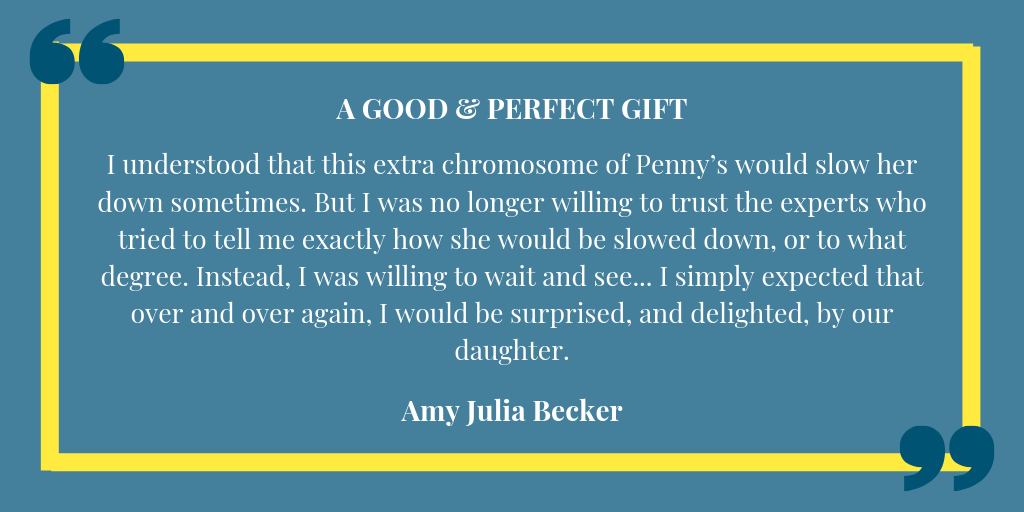 October is Down Syndrome Awareness Month. I join with many others to take this opportunity to celebrate people with Down syndrome. When our daughter Penny was diagnosed with Down syndrome at birth thirteen years ago, our lives changed immediately. At first there was a lot of fear mixed in with the love and joy of being a new mom, but as I got to know Penny and I began to understand more about disabilities, my fear began to fade while the love and joy remained. Over these past thirteen years, I have learned so much about myself, God, and our common humanity. Having a child with Down syndrome has truly been a blessing to me. 
My second book, A Good and Perfect Gift traces this journey that helped me begin to understand that love is stronger than fear. If you haven't read it yet, now is a great time to check it out. (There are other great books and memoirs about Down syndrome, which I will be recommending this month as well!)
Throughout Down Syndrome Awareness Month, keep an eye out for posts from Penny (here and here) and me about life with Down syndrome. Whether you have someone in your life with Down syndrome or not, I hope what we share will be an encouragement to understand our common humanity so that we can celebrate our diverse identities.
---
If you haven't already, please subscribe to my newsletter to receive regular updates and news. You can also follow me on Facebook, Instagram and Twitter.