"…our deepest hopes, fears, needs, and longings are often expressed through our illnesses because every other avenue of expression is blocked." – Jeffrey Rediger, M.D., Cured: The Life-Changing Science of Spontaneous Healing
I posted a photo about a week ago of all the books I read while writing To Be Made Well. Sadly, Cured: The Life-Changing Science of Spontaneous Healing, was not in that stack because I didn't learn about it until after my book was finished. If I had, the quotation above would have probably made it into the pages of TBMW.
Still, I was fascinated by this doctor's attempt to understand, to study, cases of "spontaneous healing." He details people who have inoperable and untreatable, terminal cancer who nevertheless make a full recovery. He looks at patients with auto-immune diseases that do not progress. 
He doesn't offer easy answers. Yes, diet matters. Yes, belief matters—about ourselves and about God. Yes, reducing stress makes a difference. And yes, our bodies are amazing conduits of information about our whole beings. And when we cut ourselves into pieces—when we separate our minds from our bodies and our spirits, when we decide to ignore pain and override our need for sleep or connection or the outdoors, when we push and push and push and refuse to pay attention to our bodies—our bodies often rebel. 
If there's anything I've learned, it's that our bodies demand that we pay attention. Cured is a book that helps us understand what happens when we pay attention, not so much to pain and disease as to the messages they might convey. When we pay attention to health and wholeness in the broadest sense of those words—to reconnection to self, God, community, and creation—then we all will come closer to healing.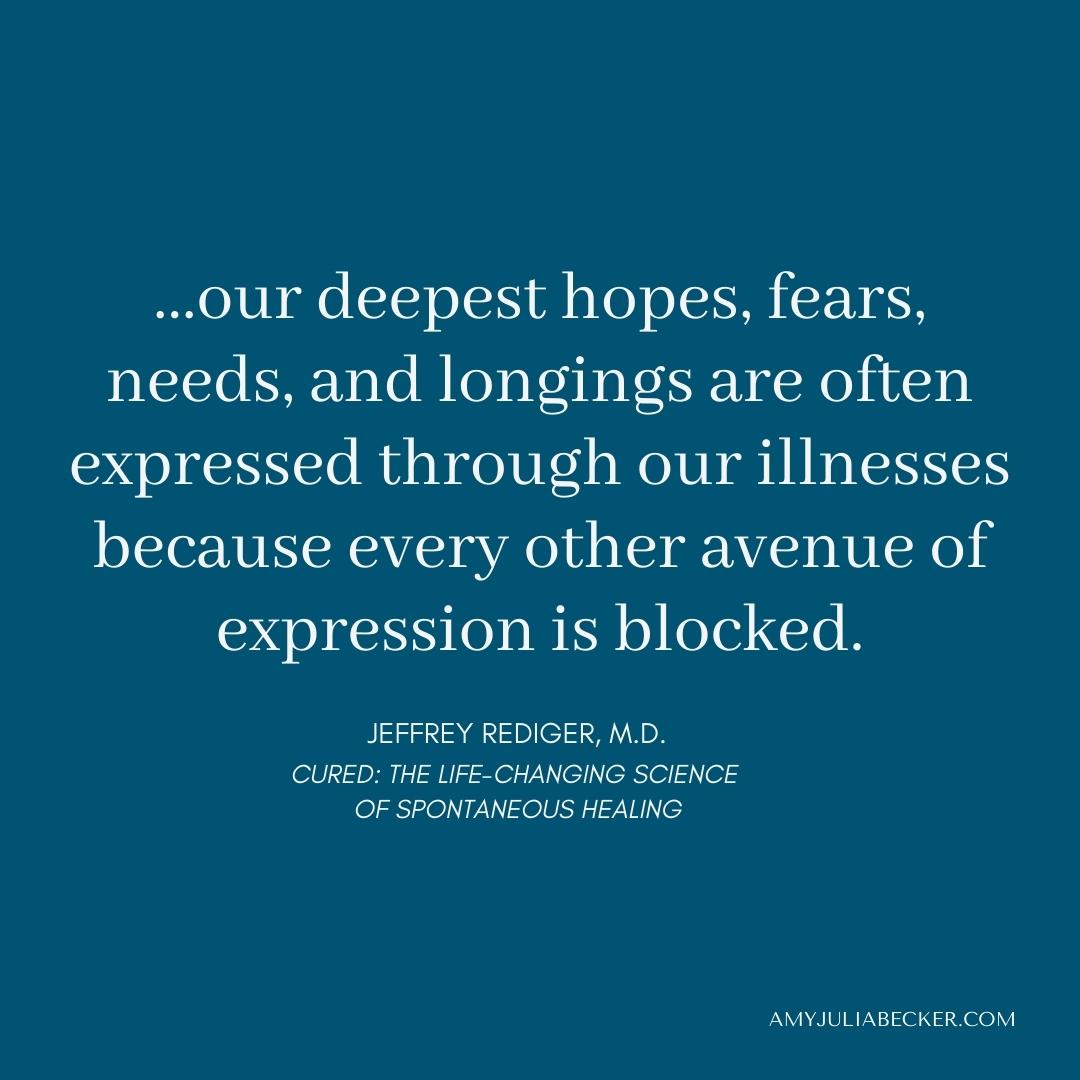 ---
More with Amy Julia:
This post contains affiliate links.
If you haven't already, you can subscribe to receive regular updates and news. You can also follow me on Facebook, Instagram, Twitter, Pinterest, YouTube, and Goodreads, and you can subscribe to my Love Is Stronger Than Fear podcast on your favorite podcast platform.