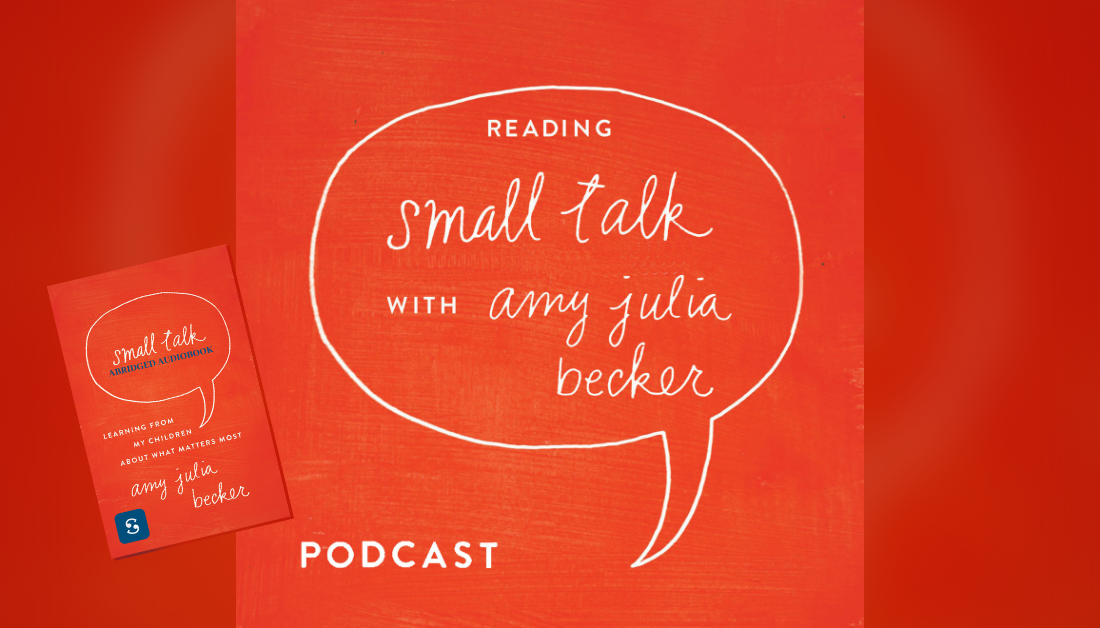 To all the mothers and fathers of young children who are struggling right now, I have a small gift for you—the Reading Small Talk podcast—that I hope might make your days just one little bit easier. I remember what it was like to be home with our kids when they were younger. It was a really hard season for me, and that was when they were able to go to preschool and music class and my mom could come and help out. 
I wish I could do more to help the moms and dads in my life who are having a rough time at home with little ones right now. I can't wash your dishes, but I can give you some words of gentle encouragement about what I learned back when our kids were little. 
SO, I have been recording chapters from my book Small Talk: Learning from My Children about What Matters Most, and I'm now offering those stories as both a podcast and an abridged audiobook. If you subscribe to the Small Talk podcast, for the next twelve weeks you'll get one chapter each week that you can listen to in the midst of washing dishes and folding laundry, or in the few quiet moments you get to yourself in the morning or the evening. I've recorded chapters on Failure, Rest, Prayer, Love, and so much more. 
And if you want to receive all twelve chapters at once, they are available for download here on my website. Also on my website, I have a set of discussion questions and passages from the Bible that you can read alongside each chapter if you're feeling ambitious, or if you want to have a way to discuss this with another mom or dad on a Zoom call or in another appropriately socially distanced way.
You can subscribe to receive one chapter a week of Small Talk on any platform where you typically get your podcasts. Please spread the word to any other moms and dads you know who'd like some short, thoughtful bursts of spiritual encouragement to let you know you aren't alone.
At the end of the introduction to Small Talk, I write:
This book is a series of reflections from my past few years of parenting, beginning when I was pregnant with Marilee and moving in a rough chronological order through our children's young lives. It is not a how-to guide. It is not filled with advice. It is, I hope, a word of encouragement that good things can emerge out of the hard but ordinary everyday moments. It is, I hope, a reminder that on those days when you wonder if there is any meaning in the dishes and disputes and diapers, you are not alone. It is also, I suppose, an exhortation to pay attention—to the words and thoughts and actions of these little ones we so easily overlook.
For a long time, I thought my children were a distraction from the work God was doing in my life and in the world around me. I am starting to realize they are the work God is doing in my life. They are the invitation to give, to receive, to be humbled, to grow. They are the vehicles of grace."
For all of you who aren't always seeing this time as one filled with grace and growth, this podcast, this audiobook, is for you.
…….
Want to read more? Here are some suggestions:
If you haven't already, please subscribe to receive regular updates and news. You can also follow me on Facebook, Instagram, and Twitter, and you can subscribe to my Love is Stronger Than Fear podcast on Apple Podcasts, Google Podcasts, and Spotify, as well as other platforms.