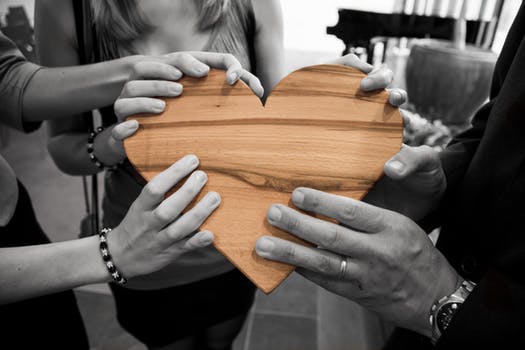 Once a week I compile the reflections I've offered on Facebook into one blogpost. Here are the thoughts from the past five days, including dealing with forgiveness and shame:
Monday, November 6, 2017
I'm not a very visual person. I don't take a lot of photographs. I often overlook visual details about the world around me (for instance, I missed it when a tree as tall as our house and about six feet in diameter was removed from our backyard…). I have a terrible time trying to come up with interesting images to accompany blog posts. I can tell you what I like and don't like, but I can't tell you why and I can't usually come up with ideas on my own. So providing my thoughts on a book cover (my job this week) isn't easy.

With A Good and Perfect Gift, I just said "great" to the cover they sent me. The original cover was a black background with a black and white photo of hands holding baby's feet. Then the marketing folks over at Bethany House said, "Absolutely not," and we went with the cover with the little girl picking flowers. I now can't imagine it any other way.

With Small Talk, I was more involved in the process. Zondervan showed two possibilities–the bolder, quirkier, more text-based cover we went with and a different one that echoed A Good and Perfect Gift, with a photo of a little girl from behind. In the case of Small Talk, we figured moms of young children (who might like the image of the little girl from behind) would be interested in the book no matter what. We were trying to use the cover to convey that this was a book that was for a larger audience than just those moms. I love that cover, but I'm not sure it actually served its purpose. I think we created a cover for an ideal audience (moms plus) rather than the real audience (Christian moms of small children).

Which brings me to White Picket Fences. As I consider cover options, I first need to consider the real audience for this book. Not my hopes and dreams of an audience. Not the people who I think would benefit from reading it. The people who are very likely to want to read it, to be excited about it, and to tell their friends. So that's where you come in. Who do you think is the real audience for White Picket Fences, a personal narrative about the benefits and wounds of privilege? What other books is that audience reading? Are they young, old, white, people of color, men, women, conservatives, liberals, religious or not?

I'll get back to you in a few months with what NavPress decides. Thanks so much for your help.
Tuesday, November 7, 2017
"Give US this day OUR daily bread . . . Forgive US OUR debts, as WE forgive OUR debtors." Sorry for the all-caps, but I've been leading a Bible Study about the Lord's Prayer lately, and I thought I knew what it was about and I'm starting to think I was missing so much. The whole prayer is written to be prayed in the plural. It's not written from a (Western/American) individual, but written as if a whole group of people is praying for their needs. Those needs include food. Those needs include forgiveness.

It has made me think a lot about American individualism and how I am concerned with my own needs and not with my neighbor's or my town's or my community. But it has also made me think about how easily we cast blame and point fingers–at the mentally ill, or at the people who own guns, or at the men who sexually harass (and worse) women. I've been thinking about what it would mean to say "forgive US" and include those men. Am I willing to be aligned with all the other sinners on this earth? Am I willing to ask for our forgiveness? Am I willing to forgive? Is this what Jesus is calling for us to do in the Lord's Prayer?

And even though I am not a gun owner, even though I haven't sexually harassed anyone, I still start to wonder–in what ways have I participated in and even supported a culture of fear or of violence or of dehumanizing and objectifying other people? In what ways am I too guilty even when it comes to crimes that seem to have nothing to do with me?

I'm still wrestling through these verses, but at the very least they have helped me see how much God cares about us seeing ourselves–in our glory and our shame–as a part of the whole of humanity.

And the point of this whole exercise is not shame and guilt. It is freedom, to ask for forgiveness in order to be set free and empowered–collectively–to be a part of God's loving work in the world.
Wednesday, November 8, 2017
We ordered some Christmas pajamas yesterday. The kids have their lists for Santa ready. We've already got parties on the calendar and plans made for travel. We've taken photos for the Christmas card. But this year I'm also getting ready for Christmas with a gift for you all and I just wanted to give you a sense of what's coming.

I'm working on an ebook for Advent which I will make available here and on my website right after Thanksgiving. It will contain 25 days of reflections on the stories in the Bible about Jesus' birth and about the spirit of the Christmas season. Some of the reflections will be from old blog posts and essays. Others will be new writing. All will hopefully help you to walk through those days leading up to the celebration of Christmas Day with more love, hope, joy, and peace in your hearts.
Thursday, November 9, 2017
I sometimes struggle with the purpose of my life as a writer when there are so many important causes out there. With my background, I could be teaching or working for a non-profit or pastoring a church. Instead I hole up and read and write and hope and pray that the joy it brings me will in turn bring goodness into the world.

So it was good to be reminded about the importance of art through this talk by Jordan Peterson.

Whether or not you are an artist, these 12 minutes are worth watching/listening to as a reminder that utility and productivity isn't what makes us human. We need truth and beauty and transcendence. Art gives us these things, in literature and music and paintings and sculpture. I hope you'll find it as encouraging as I did to try to contribute something beautiful to the world.
Thursday, November 9, 2017
I was just writing to a mother of a toddler with special needs who had asked how middle school is going for Penny and I wrote, "Middle school has been fantastic for Penny. Better than I ever could have imagined. I keep thinking we will face huge obstacles with her, but every new thing has really just been a good one." And then a friend shared this video, which is only one minute long and YOU HAVE TO WATCH IT because it is so amazingly great.

Here's the thing. It is easy for me to think that Penny is doing so well because we've done a good job as her individual parents. Or I could think that these 4-year olds are so cute because that's just how kids interact with each other. But then I remember that within my parents' lifetime kids with Down syndrome were not legally required to be admitted to public schools. And within my lifetime, we have seen a tremendous shift from "self-contained" classrooms to inclusive ones.

Yes, Penny has benefitted from her family and her church and her therapists and medical team. But I want to remind myself and everyone else that her development and maturity has also been built upon policies that have allowed her a place in school alongside her peers.

This isn't just a feel-good story or a feel-good video. This is a reminder that the way we spend our public money matters, and that all kids–the ones with special needs and the ones who are typically developing–can benefit from growing up together.