At church on Sunday, we prayed for the families of the victims of last weekend's horrific and racially-motivated mass shooting in Buffalo, NY. In our small, predominantly white, New England church, those prayers were sincere.
But, as so many people have said, "thoughts and prayers are not enough." This statement rings true when it comes to gun control and addressing mental health challenges, but it also rings true when it comes to addressing the insidious and pervasive evil of white supremacy. 
Yes, the young man who murdered 10 people with a semi-automatic weapon and words of vitriol and hatred should be held to account for his own hateful actions. And yes, the overt words and actions of other groups and individuals who are spewing similar hatred and perpetrating similar action should be similarly held to account.
But for those of us who fall into the category of "nice" white people who would never think such things or say such things or act in such a way, it is on us to recognize that thoughts and prayers are not enough. As Jemar Tisby wrote recently in his newsletter (which I recommend):
"But heed this word of caution as the phrase "white supremacist" becomes the topic of national conversation once again. To identify someone who targets, plans, and homicidally attacks Black people and other religious and ethnic groups as a white supremacist, while accurate, can obscure the ways many others are complicit with white supremacy."
Tisby goes on to write about the ways in which a culture of compromise and complicity undergird these acts of violence. 
So for those of us who are far from perpetrating hate crimes, the question is nevertheless whether we are doing our part to address historical and present wrongs, challenge and upend the ideas that undergird implicit systems of white supremacy, and repair the harm caused by these systems and practices.
For further resources on this topic, I point you to the following individuals: Jemar Tisby, Latasha Morrison, Dominique Gilliard, Kristin Kobes Du Mez, Lisa Sharon Harper, and David Swanson (among many others).
[Conversations with many of these individuals are available on my podcast.]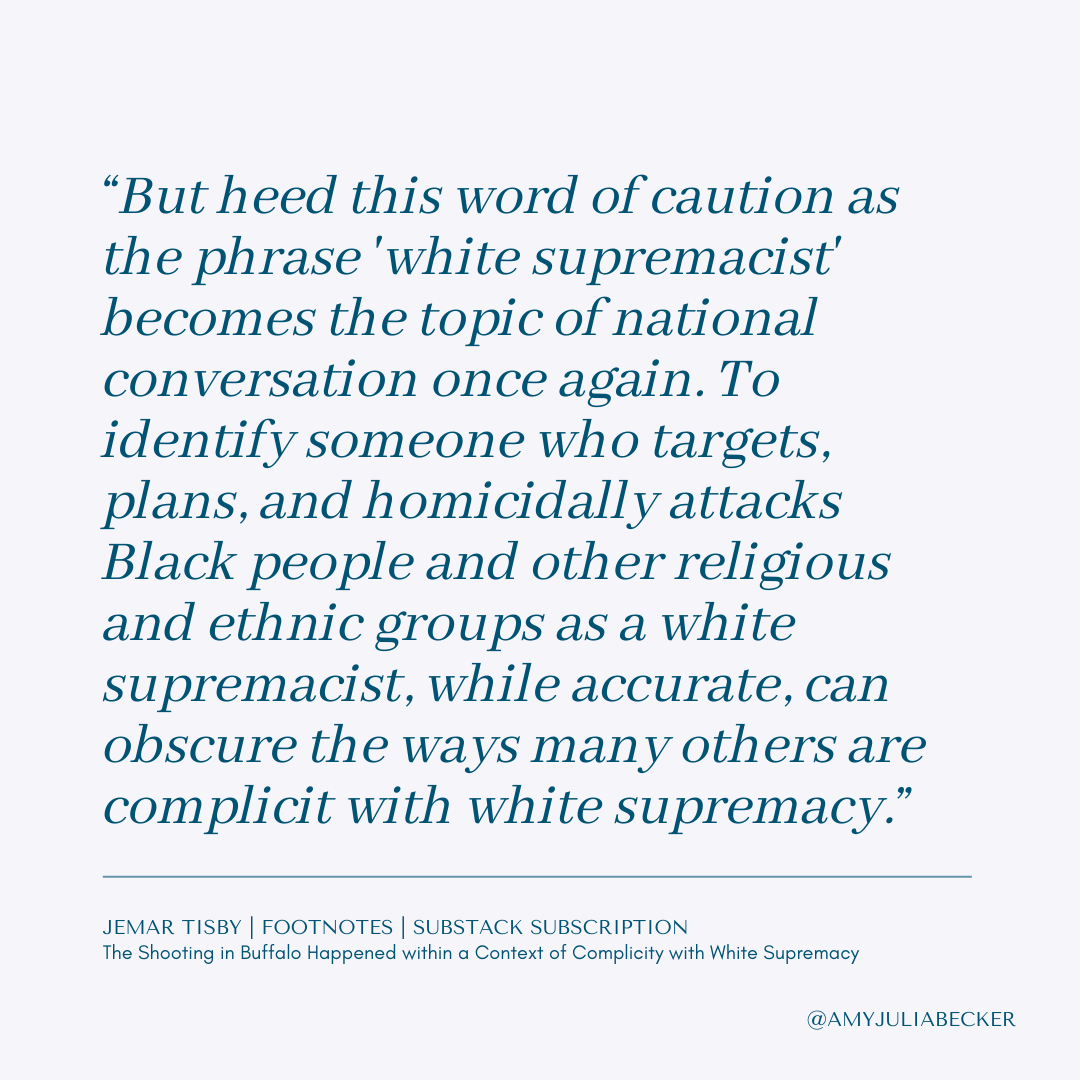 ---
More with Amy Julia:
If you haven't already, you can subscribe to receive regular updates and news. You can also follow me on Facebook, Instagram, Twitter, Pinterest, YouTube, and Goodreads, and you can subscribe to my Love Is Stronger Than Fear podcast on your favorite podcast platform.