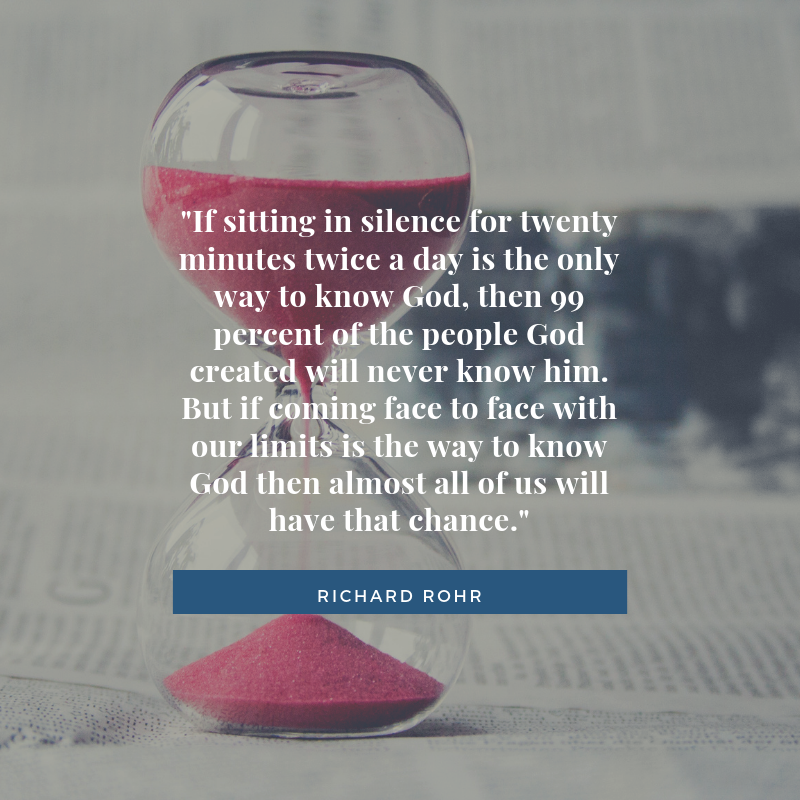 I stumbled across a new podcast today called Encountering Silence and started with an interview with Richard Rohr on the topic of silence. I've been reading and practicing a lot of contemplative spirituality these days, and again and again, I read or hear people say to start with 20 minutes of sitting in silence two times a day. Every time I hear it, I come close to deciding to abandon it altogether because who on earth can find that type of time? 
I will say that I have been grateful for my more modest attempts at silence once a day for ten minutes. 
But I was even more grateful for Rohr's comment around minute thirty of this podcast.  He says,
"If sitting in silence for twenty minutes twice a day is the only way to know God, then 99 percent of the people God created will never know him. But if coming face to face with our limits is the way to know God then almost all of us will have that chance."
Listen to Fr. Richard Rohr, OFM: Silence, Action, and Contemplation (Episode 19) from the Encountering Silence Podcast on Apple podcasts here. 
If you'd like to know about some of my other favorite podcasts, check out this post.
Oh,  and if you aren't already, please subscribe to my newsletter to receive regular updates and news. You can also follow me on Facebook, Instagram and Twitter.