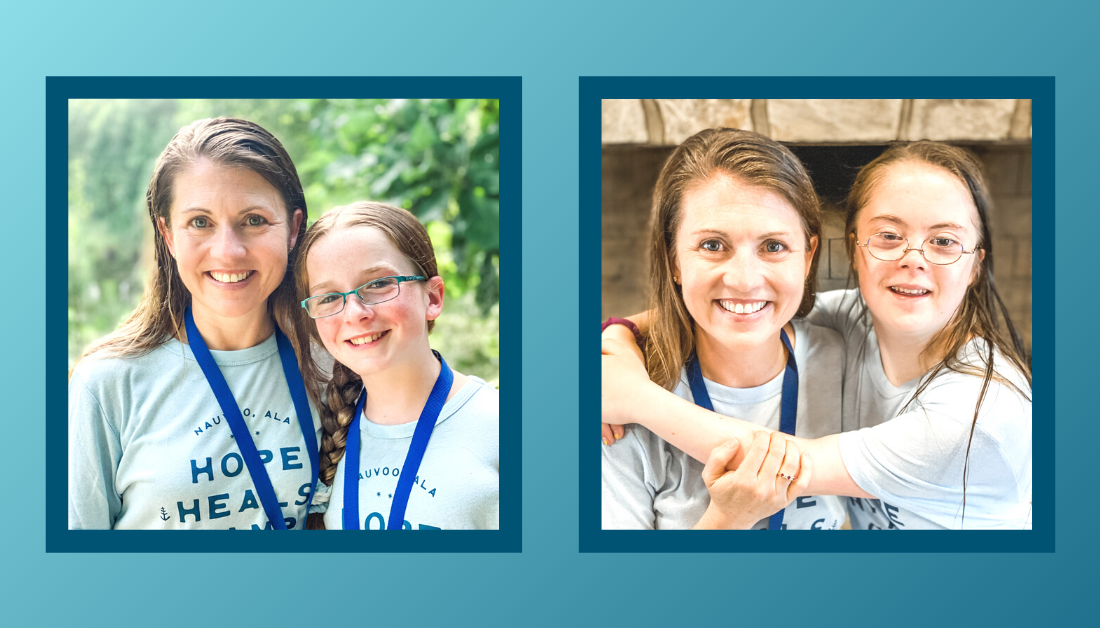 Back in December, Marilee and I were snuggled on the sofa, internet shopping for Christmas presents. We picked out a few ornaments from Hope Heals. I explained how Katherine Wolf had a massive brain stem stroke when she was 26, and she—somewhat miraculously—recovered. I told her that Katherine still lives with significant disabilities as the result of the stroke, and she and her husband Jay decided to start a summer camp in which other families like theirs could come to receive rest and beauty and healing. 
"I want to go to that camp!" Marilee said. 
But when I went to sign us up as volunteers, all the slots were full. We made plans to go to the shore with my sister and her kids instead.
And then, in May, a host of Hope Heals volunteers dropped out. They reached out to see if we still wanted to come. I said to my friend Sarah that the girls wouldn't want to go, but I might decide to make them go anyway. Sarah asked if there was anything I could pray for, specifically, that would help me know that it was right (or not) to change our plans and go to camp. I said, "Well, the only thing I would pray for is that both girls wanted to go. But that's not going to happen, so I'm not going to pray for that."
And I didn't. I didn't pray for that to happen because it seemed too impossible that they would give up a beach week with their cousins for a week in Alabama in mid-July amongst other families affected by disability.
I told the girls we had the opportunity. Marilee immediately, again, surprised me with, "We have to go!"
Penny was a different story. She doesn't like change. And she doesn't like being seen as someone with a disability. And she doesn't like heat. And she loves being with her cousins. 
A few nights later, though, she took my hand. "Mom, we should go."
So the result of my not-praying was abundant blessing for me and for our daughters in this chance to serve side by side. 
---
Learn more with Amy Julia:
If you haven't already, you can subscribe to receive regular updates and news. You can also follow me on Facebook, Instagram, Twitter, Pinterest, YouTube, and Goodreads, and you can subscribe to my Love Is Stronger Than Fear podcast on your favorite podcast platforms.