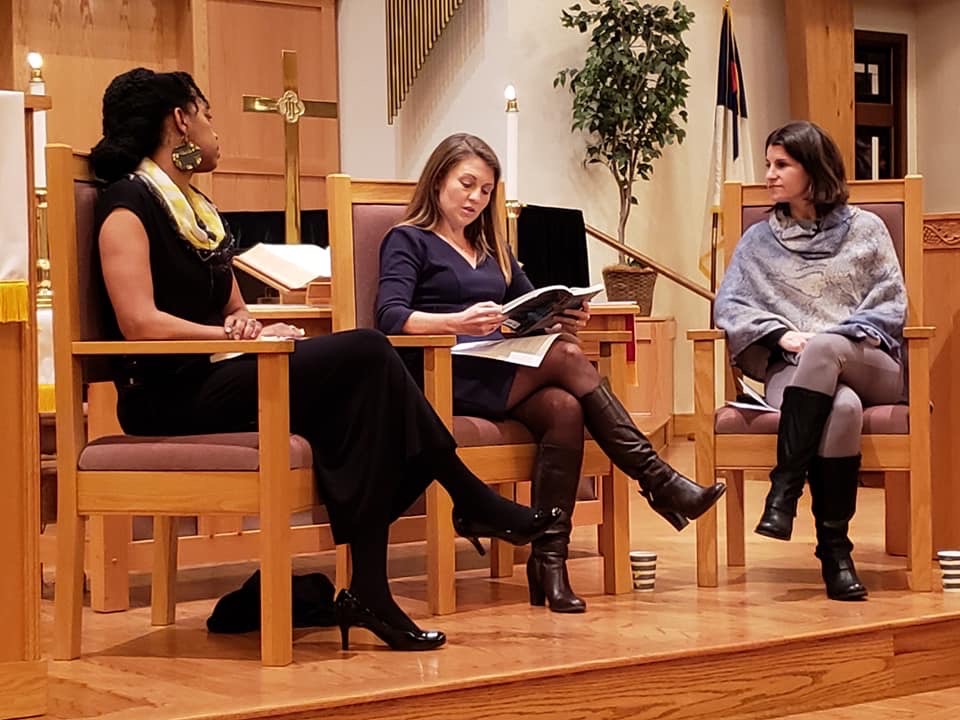 Last night, Natasha Sistrunk Robinson, author of A Sojourner's Truth: Choosing Freedom and Courage in a Divided World, and I read passages from our respective memoirs side by side at Trinity Presbyterian Church in Herndon, Virginia. We read and spoke about two very different life experiences–she as a black woman growing up in a hardworking household that struggled to get by in South Carolina, I as a white woman growing up with all the opportunities handed to me through wealth and whiteness and educational opportunities. Natasha's story is well worth reading in and of itself. She not only tells of her own journey through success (Naval Academy, Marine Corps, working for the Department of Homeland Security, seminary, founding a non-profit, becoming an author…) and suffering, but she does so in conjunction with the story of Moses and the people of Israel in Exodus.
Reading these memoirs together forces a comparison between our experiences. We have much in common–we are both women of faith who grew up in the south with loving parents and strong and supportive communities. And yet the social divisions of race and class also permeate these stories of two woman who are both asking what it means to pursue the ideals of truth and love and grace in a broken world.
I'm working on a discussion guide for groups who want to read White Picket Fences right now (my next post will tell you more about that and offer an invitation to participate).In addition to Natasha's book, here's a list of four others that could serve as companions for discussion: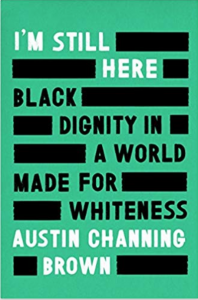 I'm Still Here, by Austin Channing Brown. Another powerful memoir by a black Christian woman. Brown attended independent schools, so her book also gives a look at being black in predominantly white spaces. Brown is a terrific storyteller and makes it easy for a reader to enter into these pages. While this book offers a piercing critique of white culture, Brown also writes that she stands in the "shadow of hope" as she looks towards the future.
Becoming, by Michelle Obama. Yes, it feels very presumptuous to suggest reading a book by the former First Lady of the United States alongside my own story! Still, the contrast in what it took for Obama to receive the education she deserved and end up at Princeton University brings up disparities in educational opportunities in America as a whole. It's also well written and honest and offers a window on the challenges and possibilities we face.
Men We Reaped, by Jesmyn Ward. I'm a big fan of Jesmyn Ward in general (her other books are novels, two of which have won the National Book Award). Her memoir focuses on five men in her life who died over the span of a short period of time, and she offers the story of her own life growing up in Gulf Coast Louisiana as she narrates those losses. Ward also attended private school. She did well in school and left home for college and an eventual career as one of the most significant novelists of our time. She wrestles with the knowledge that she had opportunities so many others in her same social situation do not, and she wrestles with leaving and returning to her beloved hometown.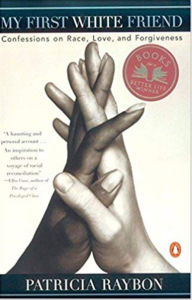 My First White Friend, by Patricia Raybon. This book is now twenty years old, so it doesn't speak as directly to our present moment, but it remains a gentle and honest story of a black woman who grew up with the specter of overt racism and looked for ways to choose love and hope in the midst of it. Patricia Raybon is a friend and mentor of both mine and Natasha's, and she wrote the foreword to both of our books.
There are plenty of other books that could be on this list (Real American by Julie Lythcott Hayes, Disunity in Christ by Christena Cleveland, which isn't a memoir but could still offer a great conversation partner to WPF, Between the World and Me by Ta Nehisi Coates, which is worth reading for the struggle of encountering a story that refuses to be hopeful about the future in light of the ongoing injustice of our history and our present moment, Educated by Tara Westover and Hillbilly Elegy by JD Vance as examples of a very different white experience of American life), and then there's a host of reading in the area of disability that I will put together for another post.
I offer these five for now, with gratitude for the way these women have shaped my understanding of the world and of myself, and in hopes that you too might find them helpful companions in entering into the hard truths of our past.
Last night, Natasha spoke about the "cognitive dissonance" that exists between the reality of our lives and the ideal of a life of liberty and justice for all. We talked about the natural responses to that dissonance: cynicism, anger, despair, bitterness, ignorance. But there is another option, which is to continue to insist that we can–with thought, and prayer, and love–move towards the ideal. We can face reality–and these books are one way to do so–while also longing for, praying for, and taking small steps of love towards a better world. 
If you haven't already, please subscribe to my newsletter to receive regular updates and news. You can also follow me on Facebook, Instagram and Twitter.