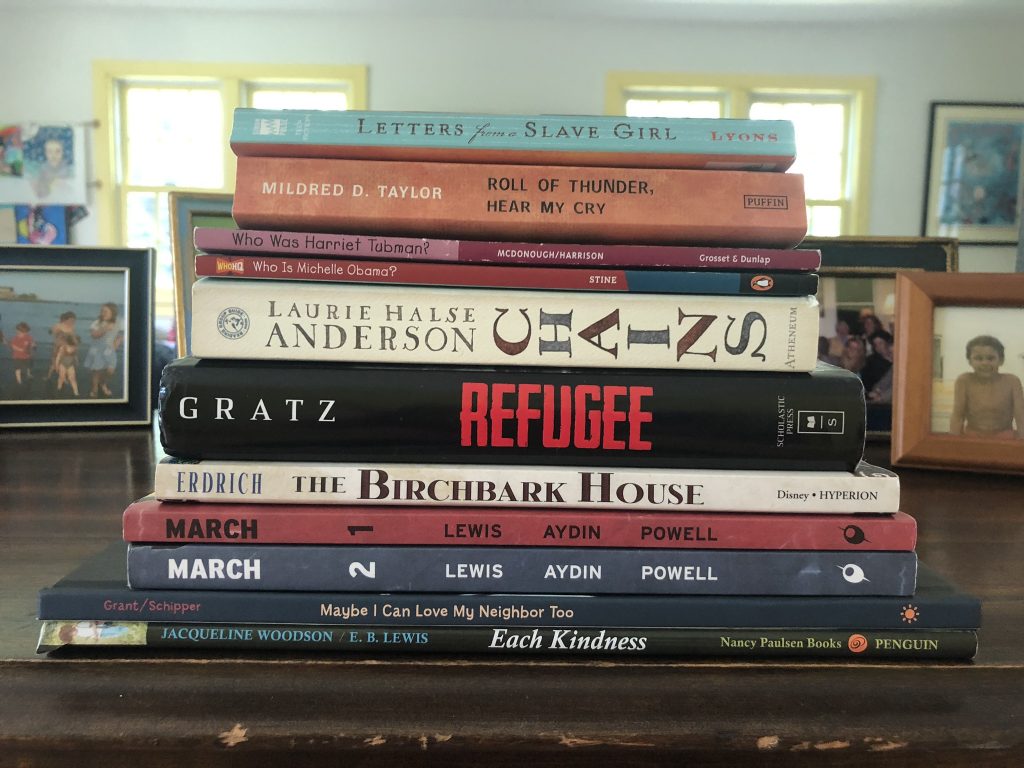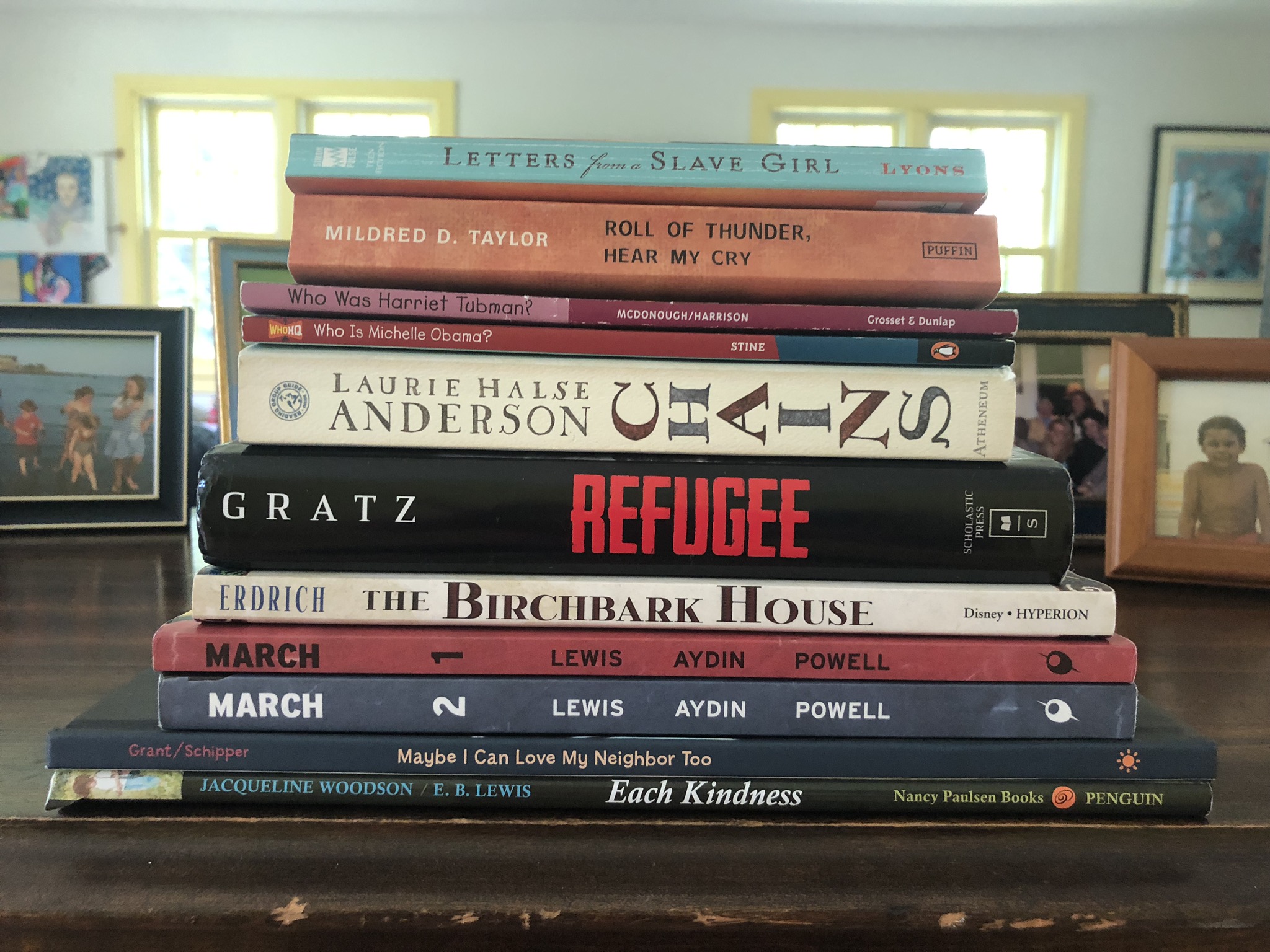 Four years ago, I was working on a book about children's literature. I loved the experience of reading out loud to our kids, especially reading chapter books, and I wanted to write about it. It seemed like a sweet and safe topic–the friendship that develops between parent and child through a shared story, the power of story to communicate truth across time and place, the learning that happens without feeling like instruction. I researched Beverly Cleary and E.B. White. I reread classics from my childhood. I recorded interactions with Penny and William and Marilee as we read together.
But over time, that sweet and safe topic began to feel more complicated. I noticed my own assumptions about parents having time and ability to read out loud with their kids. I noticed the fact that the gift of reading had been passed to me by my own parents. And I noticed the whiteness of the books on my children's bookshelves.
This safe and simple story about reading became a very different book (aka White Picket Fences), albeit a book that still talks about the problems and possibilities of reading out loud to children. And perhaps it is because of these beginnings that I get asked regularly for a set of recommendations for children's books with diverse characters and experiences.
I recommend two websites for a broad list of these types of books– The Brown Bookshelf and the American Library Association's Coretta Scott King Award list.
But I also thought I would offer a few specific suggestions from our own family as we head into the summer:
(It's worth noting that many of these books are written and illustrated by white people, which underlines a historical problem in the publishing industry. First, there's the problem of not representing non-white experiences on the page but then there's the problem of only employing white people to offer those depictions and stories. I'm still working to expand our bookshelf not only through representation on the page but also through a more diverse array of authors and illustrators.)
For the very little ones, board books like Everywhere Babies are terrific because they offer visual representations of diverse children and parents.
For pre-school age kids, of course there are classics like The Snowy Day and Corduroy, but also more contemporary depictions of everyday life like Dancing in the Wings by Debbie Allen and Jennifer Grant's Maybe God is Like that Too and Maybe I Can Love My Neighbor Too.
For early elementary picture books, our favorite is The Story of Ruby Bridges, which is both a hopeful story and also a hard one as it details the hateful discrimination experienced by a young child going to school. Marilee also really likes Each Kindness by Jacqueline Woodson, a picture book about a group of girls who aren't kind to a new girl in school.
For early elementary chapter books, we also enjoyed The Birchbark House by Louise Erdrich, a story set around the same time period as the Little House books, but this time told from the perspective of Native Americans. We also read Song of the Trees by Mildred Taylor, about a black family in the Jim Crow south struggling to retain ownership of their land in the face of white opposition. And we recommend many of the biographical books in the "Who Was?" series, including Harriet Tubman, Martin Luther King, Michelle Obama, Barack Obama, and Frederick Douglass.
For later elementary school, William particularly enjoyed John Lewis' graphic novels about the Civil Rights movement (three volumes, all called March), Letters from a Slave Girl, a fictionalized account of Harriet Jacobs' experience of growing up as an enslaved person in Edenton, North Carolina (my home town) and then hiding for seven years in an attic crawl space before finally securing her freedom. We've also liked Laurie Halse Anderson's Chains, about an enslaved girl in the northern states during the time of the revolutionary war. I'll note that with many of these books, our kids haven't wanted to read them on their own, but they have happily listened as we've read them out loud and discussed them together.
And for middle school, so far I recommend the classic Roll of Thunder Hear My Cry by Mildred Taylor and the more recent Refugee by Alan Gratz.
I'd love to expand my own list of books for our kids! If you have any personal favorites or suggestions, please share in the comments below!
Also, if you are looking for adult books, here are 4 books I love about our common humanity, as well as 7 Non-Fiction Books I Recommend for (White) People Who Want to Understand our Racial Divides.
Plus this: 7 More Diverse Book Recommendations & A Deeper Look
*Edited to add:*
In response to my original post, many of you offered further suggestions, and I thought of a few more myself. So here's an additional list of mirrors and doorways for us all:
Picture Books:
God's Very Big Idea by Trillia Newbell
 Last Stop on Market Street by Matt de la Pena
And for older middle school and high school students:
I also have book recommendations for adults:
Five Memoirs to Read Alongside White Picket Fences, and
Seven Non-Fiction Books I Recommend for (White) People Who Want to Understand Our Racial Divides.
(For more thoughts about representation in children's literature, see Christopher Meyer's article, The Apartheid of Children's Literature, and Kwame Alexander's short piece On Children's Books and the Colors of their Characters.)
Check out my post 7 More Diverse Books For Kids for even more recommendations!