Quick links to favorite books for kids and adults that we read in 2021:
---
I still read out loud with Marilee in the evenings. William and I trade book ideas and suggestions (though I don't follow his lead when it comes to fantasy). So here's a list of favorites from Marilee (10) and William (13). These are all wonderful books in their own right and also points of connection for parents and kids:  
Favorite Read-Alouds with Marilee:
The Hiding Place topped the list (and William read it on his own and loved it too). We all agree that the first 50 or so pages of this book are slow, so just get through that and on to the action of a family in Nazi-occupied Holland that unexpectedly becomes central to the resistance movement. 
Chains, Forge, and Ashes: This trilogy traces the lives of two enslaved teenagers during the Revolutionary War. It's a great story about endearing characters—including a strong and courageous young woman. It also offers a way to learn American history as a complicated story where the ideals of freedom and the reality of enslavement twist around one another. 
Favorite books William and I read at different times:
Roll of Thunder, Hear My Cry by Mildred Taylor. This hard but hopeful story of a Black family in the Jim Crow South—based on Taylor's own family history—is a riveting story while also exploring ideas of personal and structural racism and American history. (I also loved The Land, Let the Circle Be Unbroken, and The Road to Memphis, though those weren't as captivating to William.) 
Concrete Rose by Angie Thomas was another one we shared and loved, although we both agree that On the Come Up is the best of Angie Thomas' contemporary depictions of life in "Garden Heights," a fictional urban neighborhood.
Series William Raced Through
William has also raced through the Ranger's Apprentice series. I have not read these books, but there are dozens of them (including the prequels and sequels and side stories) and for any lover of adventure stories in a medieval setting, these are top of his list.
Happy reading in 2022! Let me know if you check out some of our favorite books for kids and adults from 2021!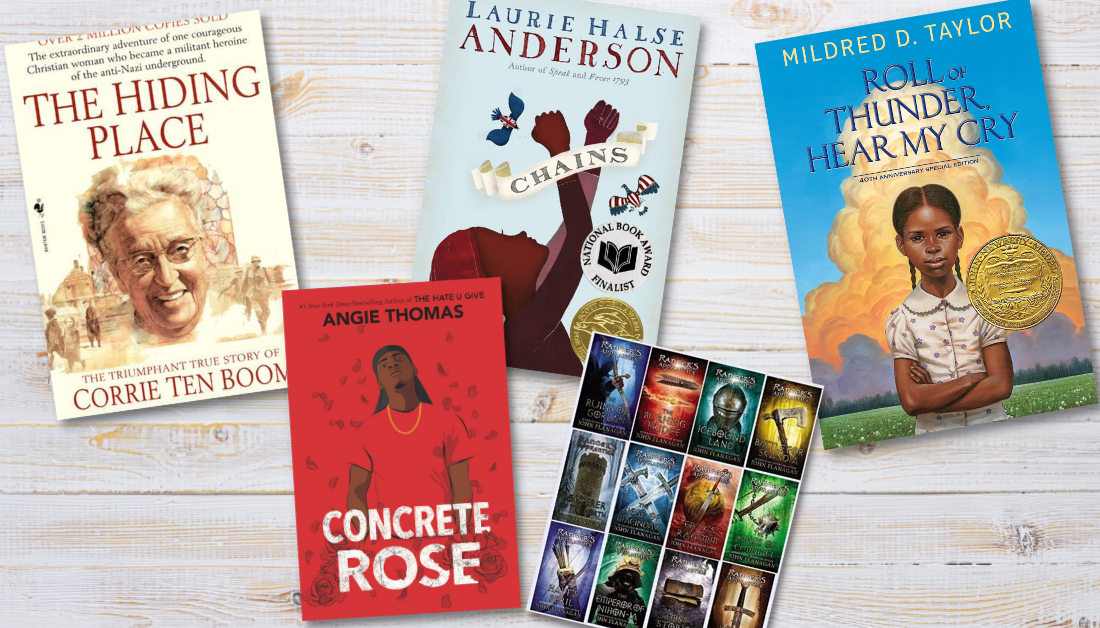 ---
This post contains affiliate links.
Read more with Amy Julia:
If you haven't already, you can subscribe to receive regular updates and news. You can also follow me on Facebook, Instagram, Twitter, Pinterest, YouTube, and Goodreads, and you can subscribe to my Love Is Stronger Than Fear podcast on your favorite podcast platform.