I was invited to share some thoughts on disability and theology with the student body of St. Paul's School, a boarding school in Concord, New Hampshire. I offered three reflections on the theme of love and knowledge, along with three readings. I have modified them slightly for this blogging format, but I wanted to share the thoughts with you. Here's the third post (and here are links to the first and second):
One of the ways we combine love and knowledge is by putting facts in the context of experience. I've included photos of Penny and our family here to demonstrate what the abstract factual knowledge about Down syndrome looks like in the context of love.
If I speak in the tongues of men or of angels, but do not have love, I am only a resounding gong or a clanging cymbal. If I have the gift of prophecy and can fathom all mysteries and all knowledge, and if I have a faith that can move mountains, but do not have love, I am nothing. If I give all I possess to the poor and give over my body to hardship that I may boast, but do not have love, I gain nothing.
Love is patient, love is kind. It does not envy, it does not boast, it is not proud. It does not dishonor others, it is not self-seeking, it is not easily angered, it keeps no record of wrongs. Love does not delight in evil but rejoices with the truth.  It always protects, always trusts, always hopes, always perseveres.
Love never fails. But where there are prophecies, they will cease; where there are tongues, they will be stilled; where there is knowledge, it will pass away. For we know in part and we prophesy in part, but when completeness comes, what is in part disappears. When I was a child, I talked like a child, I thought like a child, I reasoned like a child. When I became a man, I put the ways of childhood behind me. For now we see only a reflection as in a mirror; then we shall see face to face. Now I know in part; then I shall know fully, even as I am fully known.
And now these three remain: faith, hope and love. But the greatest of these is love.
–the Apostle Paul, 1 Corinthians 13
Reflection Three: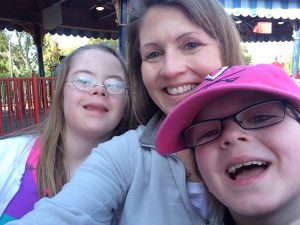 Sometimes I wonder whether my love for my daughter discredits me when I try to argue for her value or for the value of human beings with Down syndrome and other disabilities all over the world. Because of Penny, I am biased, and I know from my many years of schooling that arguments can seem less valid when they arise from a position of bias. I have been taught to divorce love from knowledge and to argue positions based upon facts alone.
There's some validity to this approach. If I argue a point based only upon emotion, only upon sentimental allegiances, then I run the risk of ignoring facts or distorting truth. Love without knowledge can lead to destruction.
But I am learning that knowledge without love, like St. Paul said in the reading we just heard, is also problematic. Paul calls knowledge without love a clanging cymbal, a useless and irritating noise. He says wisdom and insight, without love, is nothing. We've all met uptight religious people who know the moral rules but don't love the people the moral rules are meant to protect and liberate. Such knowledge without love leads to restriction, repression, and even abuse. Outside of the religious sphere, knowledge without love can lead to war (think of any dictator). Knowledge about how to use resources from our earth without love for the earth has led to destruction of air and water and forests. The list could go on.
Love without knowledge leads to destruction by way of sentimentality. Knowledge without love leads to destruction by way of data points.
But what happens when knowledge and love walk hand in hand? What would happen in your life if you were known—in all your fears and doubts and dreams and gifts—and you were loved? What if you were accepted as valuable and significant not because of the grades you got or the goals you scored or the community service you offered? What if you were accepted as valuable simply because the truth at the foundation of the universe is love, and all our knowledge of ourselves and one another and the world around us is incomplete without love at its core?
When it comes to usefulness, Penny's life might not measure up, and mine might. But our lives are equally valuable, equally filled with potential to give and receive love from our fellow human beings, equally filled with potential to bring more light and life, freedom and joy, hope and healing to the world. What if the same is true of you?
Having a child with disabilities has expanded my capacity to love and value others, but it has also expanded my ability to believe that I am loved not because of my achievements but because of my humanity, in all my vulnerabilities and weaknesses and beauty and gifts. You too are limited and needy, gifted and glorious. And your value comes not because of your SAT scores or your likelihood of becoming an investment banker someday. Your value—like Penny's, like mine—comes because you are known and you are loved, with a love that is patient and kind, a love that always hopes, always protects, always trusts, always perseveres. Our value comes because we are loved by a love that never fails.