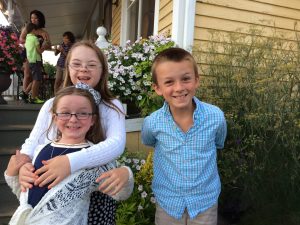 Today is day five of middle school for Penny. She has weathered it better than I have–great attitude, tremendous excitement about the prospect of hot lunch (which wasn't available daily at her elementary school), multiple opportunities to show us that she really and truly is growing up and can make decisions for herself and can keep a 7 day rotating class schedule in her head without a problem. She got sad once because her two best friends aren't at school any longer, but even from that she bounced back pretty quickly. I, on the other hand, cried in my minivan when I got a call from the school nurse yesterday because Penny had spilled on herself and didn't have a change of clothes and I felt like I had failed her. Penny told me about it later with her usual matter-of-fact reporting. "It was no big deal, Mom."

Any transition for any kid has the potential to raise anxiety levels for everyone. I suspect that for parents of kids with special needs, once again this process is magnified. For me, old questions about Penny's future–questions that I have been able to put off for the past five years because her life has been stable and she has been growing and loving life–have resurfaced as she transitions into middle school. Will she get a job? Will she be able to live independently? Will she make new friends? Will she be happy?
Yesterday, before the phone call from the nurse, I was thinking about a verse from a Psalm, "Whoever is wise, let him heed these things and consider the great love of the Lord" (Psalm 107:43). Wisdom–knowledge combined with goodness and hope and peace–comes from considering, from pausing to think about and remember and rest in, the great love of the Lord. I needed to go back in time to think about God's love for Penny, God's love for me, God's love for this world. First I was reminded of a Psalm that came to me when she was one and needed heart surgery: "The Lord protects the simple hearted… Be at rest once more, O my soul, for the Lord has been good to you" (Psalm 116:6-7, and for the whole story you'll need to read A Good and Perfect Gift). Then I was reminded of the clear promise I heard when we were decided whether to move to Connecticut, "Even if you make the wrong decision, I will take care of Penny." (For that whole story, see Small Talk!) And finally, of the verse that our pastor read at her dedication as an infant: "She is like a tree planted by streams of water, which yields its fruit in season and whose leaf does not wither. Whatever she does prospers" (Psalm 1:3).

Nothing has changed about this particular week. Penny still has scoliosis. She is still in transition to middle school. She still has to find new friends and figure out a rotating schedule and changing clothes for gym and a combination lock on her locker with only three minutes between classes and getting on a bus with high school kids.
After my tears in the minivan, my mind went back to that Psalm–consider the great love of the Lord– and I thought, that's my job right now. Not to get her backpack packed perfectly every morning. Not to manipulate a new friendship for her. Not to work harder to straighten her back. Not to make sure she looks great or does well in school. But to consider the great love of the Lord, for me and for our daughter, and to rest in that unfailing, enduring, never-giving-up love.