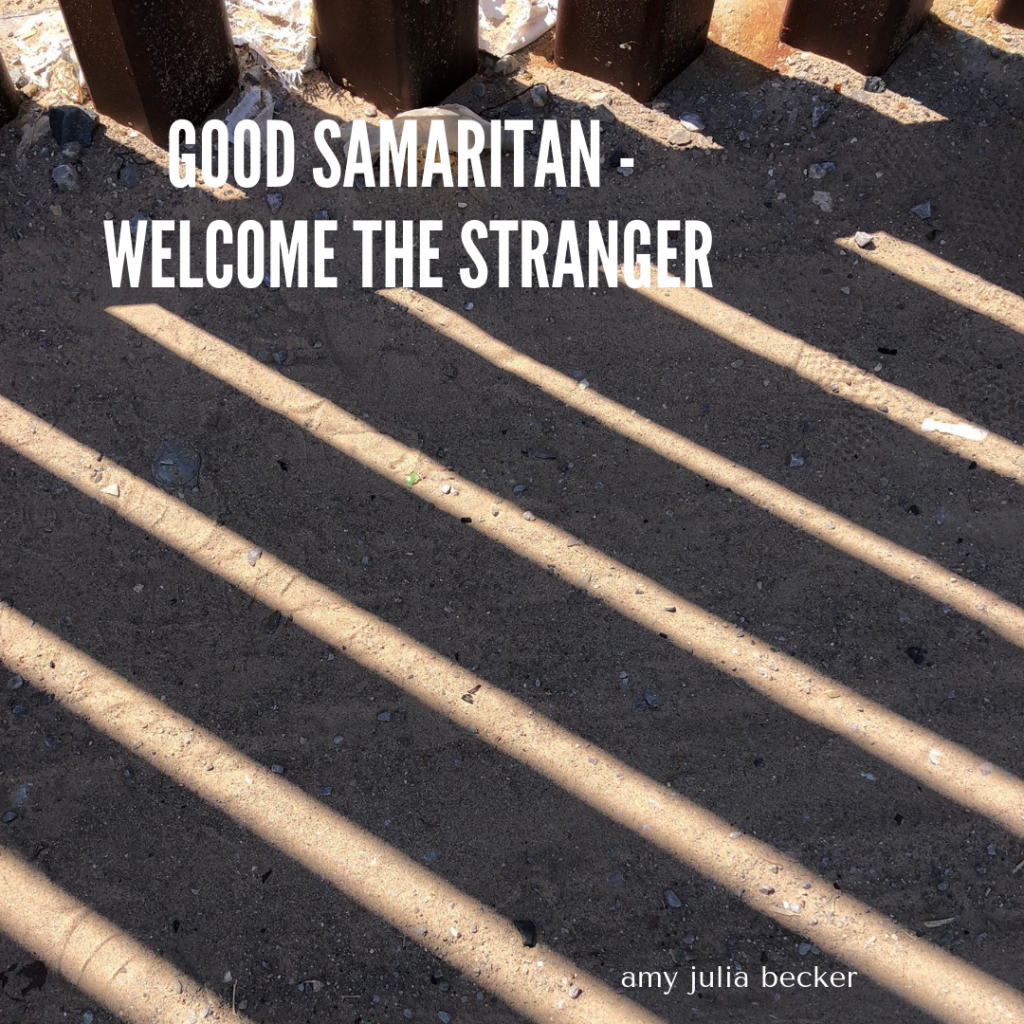 The United States' immigration crisis is on the forefront of my mind after a recent visit to El Paso, Texas and Juarez, Mexico. In this post (the first of a series) I want to share about the trip, who I met, what I saw, and how I think about this as an American Christian, and in particular, how I think about loving my neighbor through Jesus' story of the Good Samaritan. 
Last week, I flew 2,300 miles from Hartford to El Paso to join a group of Christian women to learn more about the border crisis our nation has faced in recent years. We were invited by Welcome, a collaboration between World Relief and the National Immigration Forum. We spoke with local pastors and non-profit leaders, volunteers, and border patrol agents. We traveled into Juarez to visit a shelter filled with families from Central America seeking asylum. We stood at a newly constructed section of the border wall and talked through the slats with two women on the other side. What struck me most over the course of our time was how much I still have to learn about what it means to love my neighbor. 
How Immigration Has Changed in Recent Years
Our trip started with an information session that explained a significant shift in migration patterns. Twenty years ago, 90% of the people apprehended at the southern border were young men from Mexico trying to sneak into the country. Today, 65% of the people coming to the border arrive as part of family units from the "northern triangle" of Guatemala, Honduras, and El Salvador. They aren't trying to sneak in. They are announcing themselves at a port of entry and requesting help, seeking asylum. 
In a recent change, the United States no longer allows asylum seekers to enter the country, but instead requires people to take a number and return to Mexico (though this policy is being contested in court). On the one hand, this policy means that children are no longer being separated from their parents. (Of course, this type of family separation was not happening until the current administration changed the process.)
On the other hand, it means that Juarez, Mexico has received an influx of 15,000 immigrants in recent months and that tens of thousands of people in need are in limbo for an indefinite period of time. Again, many of them have friends and family in the United States who would be willing to house and support them until their court hearing. 
We visited one shelter housing about 100 immigrants, mostly families. We heard the story of a young man fleeing for his life. He had left his family behind and stood in line to request asylum back in May. He has been given a court hearing date in the US in November, at which point he will try to demonstrate that he has a "credible fear of persecution" in his home country. Eighty percent of immigrants with legal representation are able to make their case and receive asylum. But no immigrant–even a very young child who is alone–is guaranteed legal assistance. The vast majority receive no legal advice or representation. The vast majority are denied our aid.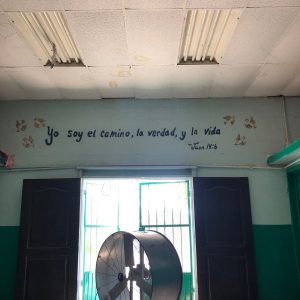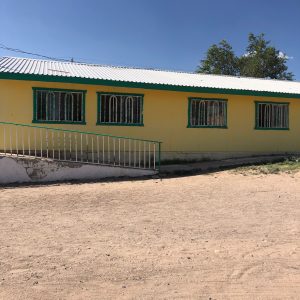 The Border Patrol Has a Really Hard Job
We also talked with members of the border patrol, and hearing from them directly underscored the deep complexities involved in trying to make short and long term changes that will benefit all the people involved. Every day, these men and women go to work with two almost diametrically opposed objectives: One, to apprehend the "bad guys" (their words) who are bringing drugs and smuggling people into the United States. Two, to search for and rescue immigrants who are lost and in need and in danger, crossing the Rio Grande or coming into the country through the desert. Then there's the third, administrative, job of processing the incredibly high volume of people who are presenting themselves at ports of entry and requesting asylum. The agents expressed the fear that comes with their position, the frustration over lack of funding and support, and their anger at the cartels who send people and drugs our way.
Love God. Welcome the Stranger.
On this trip, I learned about the intricacies of the system. I witnessed the helplessness experienced on both sides of the border. But what struck me most was the claim one pastor made when she was teaching us about the theology of immigration throughout the Bible. "Love the Lord your God" is the most often repeated command in the Old Testament. The second most repeated commandment? Not keeping the Sabbath. Not a food prohibition. Not don't lie or cheat or steal or commit sexual sins. The second most repeated commandment in the Old Testament: "Welcome the stranger." 
Love God. Welcome the stranger. 
Jesus echoes this pattern when he is asked about the most important commandment. "Love God," he says, and then he adds that the second greatest commandment is to "love your neighbor." In the Gospel of Luke, Jesus describes loving your neighbor as offering above-and-beyond, at-great-risk-to-yourself, loving aid to the foreigner in need. He tells the parable of the Good Samaritan, in which a Jewish man is left for dead at the side of a road, and two Jewish religious leaders ignore his need. He is saved only because of the excessive generosity and care of a Samaritan, a hated member of a different people group. In other words, Jesus does not define neighbor as the person living in the house next door. He defines neighbor as the stranger, the foreigner, the immigrant. There it is again: Love God. Welcome the stranger.
I have always felt a great deal of sympathy for the two religious leaders who leave the man in the ditch. I have imagined them heading to a "Co-dependents Anonymous" meeting after their journey on the Jericho road, and reporting with a sense of accomplishment that they had maintained good boundaries. That even when they saw someone in need, they knew they didn't have to be the savior. They trusted that God was in charge and God would provide. They remembered how tempting it was to try to solve other people's problems instead of confronting their own issues. They received encouragement on their personal growth. 
But the men with good boundaries are not the good neighbors in Jesus' story. 
What Does Love Look Like? 
I did not come away from this trip with the sense that we should open our borders to anyone who wants to come in. Of course our government needs to keep the border secure against terrorism, fight against the smuggling of drugs and people, and establish orderly and humane processes for the people who desire to enter for work and opportunities for a better life. 
I did come away certain that we as Americans, and especially those of us who call ourselves Christians, have a responsibility to participate in caring for these vulnerable people who need help. This trip brought me back to the conversations I've had about my book White Picket Fences over the past year. I've talked with countless people about how we respond to the injustices within our own borders and the overwhelming and overlapping congruence of problems that inevitably seem to create disparities and suffering here. The dividing lines of immigrant and native-born, asylum-seeker and citizen are just as pronounced as those of race and economic status. 
But in all these situations, I return to three conclusions: One, an insistence that if God is love, then those of us who are people of faith can lean into the truth that love is stronger than fear. Two, that while we should acknowledge the diversity and disparities among us, we also can remember our common human identity as those created in God's image, beloved and able to love in return. And finally, that active response is possible through a humble and holistic combination of using our heads, hearts, and hands. We can seek to learn more, connect to others sharing the same concerns, and discern our own call to loving action. 
As with any contentious issue, this one requires thought, prayer, and action, and those actions may be as small as voting in a local or federal election, making a financial donation, or volunteering to serve meals to families in need. It may be as large as signing up to sponsor a family seeking refuge. It may even require sacrifice, just as the man we now call the Good Samaritan risked his own life and gave his own money and time to the stranger on the side of the road.
My time in El Paso was a time of learning, connecting and prayer, and considering my own call to respond with love to my brothers and sisters in need of refuge around the globe. 
If you haven't already, please subscribe to my newsletter to receive regular updates and news. You can also follow me on Facebook, Instagram and Twitter.