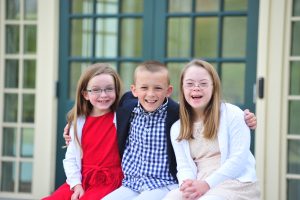 Once a week I compile the reflections I've offered on Facebook into one blog post. Here are the thoughts from the past five days, including some thoughts on how to give a gift to Jesus this Advent season:
Monday, November 27, 2017
Last Wednesday, we took the kids to see the movie Wonder. All three of them had read/listened to the book more than once, so they were familiar with the story of Auggie Pullman, a 5th grader with a wry sense of humor, a loving family, a tenacious spirit, and significant facial deformities. In the book and movie, we meet Auggie as he goes to school for the first time in 5th grade. (He has been home schooled up to this point due to his 21 surgeries.) I've commended the book before, and I commend the movie as well, especially because of the conversation it led to at dinner afterwards.

So first we asked the kids, "Who do you relate to in the movie?"
Penny went first: "Auggie. Because, you know, I was born with something too."

William said, "Jack Will." He didn't choose to elaborate. (This is the kid who becomes Auggie's good friend but who also betrays him at one point in the story.)

Marilee shared, "I related to Charlotte because she was nice but also just being a girl." (I was very surprised–and a bit relieved– that Marilee didn't say Via, Auggie's sister, who struggles with the way her family orbits around Auggie's needs and feelings and seems to neglect her in the process.)

Then we asked, "Of all the characters, who would you most want to be?"
Again, Penny went first: "Jack Will, because he was kind."

William agreed. (And I do too. Jack is awesome. Very human in that he does care what other people think, but ultimately someone who chooses meaningful friendship over surface social approval.)

Marilee surprised me. She said, "Auggie. I would want to be Auggie because he was kind and strong."

Marilee, mind you, literally got hives when she was four years old at the thought of wearing glasses to school since no other kids had glasses. She also routinely asks for gifts in terms of clothing that older kids wear. In other words, if there is any one of our children who cares about physically conforming to social norms, it is Marilee. But she cares about more than social norms, and this movie gave her a vision of what it might look like to take social risks for the sake of true friendship.

Our kids are growing up with the reality of life with a disability. Penny says she has never been bullied, never encountered the teasing that Auggie had to endure in this film, and we hope and pray we can protect her as well as her siblings from the meanness out there. But assuming we can't actually protect them from meanness we can talk about what it means to be kind even when it comes at a social cost, about loving people for who they are rather than judging them for their appearance.

Nearly twelve years ago, our baby girl was born. Her face looked different than the other babies born that day. Some would call her features abnormal. We would call them beautiful. And if we can teach our children to see the world through eyes of love instead of judgment and fear, they will be able to see all sorts of beauty too.
Tuesday, November 28, 2017
Last month, I wrote an article for the Washington Post about the label "evangelical." It struck a chord. Numerous people have reached out to me personally, and the article has been republished in various newspapers around the country, most recently in Tulsa (see photo). It was even translated into German.

On the one hand, in this article I was explaining why I once identified as an evangelical and no longer use that term to describe myself. Yes, it has to do with the politicization of the word. BUT the bigger point I was trying to make is that I'm not taking up a different label. I'm not opposing evangelicals. I remain aligned by faith in Jesus with my evangelical brothers and sisters even if we make different choices in the voting booths.

In walking away from the label evangelical and refusing to take up a different label, I'm trying to resist the temptation to cut myself off from other Christians. As I write in the article:

"I am still tempted to categorize my Christian friends with words like "liberal" or "progressive" or "orthodox" or "conservative" or "evangelical." I am still tempted to judge the faith of other people according to my standards of who and what constitutes Christianity. But when I stop and ask how I see God's work in their expressions of faith — when I stop and consider the expansive love of God at work in and through countless people, people like me, people who have our theology wrong plenty of the time, people who have our theology right and still behave badly, people who are bumbling around in a world of sin and are still at our core beloved by God and invited to participate in God's work in the world — when I do that, I start to believe that we are Christians."

I have been reading Richard Foster's book Streams of Living Water this fall, (here's a link to a summary), and I will probably write more about how this book has influenced my thinking on another day. But suffice it to say, I want to rejoice in the ways my evangelical heritage has given me a love for the Bible and for telling people the good news about Jesus. And I also want to rejoice for all the other ways people express their faith in Jesus–prayer, serving others, working hard–and I want to learn from those Christians as well.
Wednesday, November 29, 2017
Tomorrow I'm going to post here about an Advent devotional that I've put together. It will include daily readings from the Bible that take you through the stories about Jesus' birth as well as reflections–some new, many that I have written over the past decade–about those passages and how they relate to our daily lives.

Meanwhile, I'm doing some work of my own to prepare for Advent. That means we've moved the boxes of Christmas books and Advent calendars out of the attic and into the playroom, we've replaced our broken white lights for the tree, and we've started playing classical Christmas music on Spotify.

It also means we are getting out some big cardboard boxes. Starting a few years ago, we used the Advent season to "prepare him room" (a line from "Joy to the World" and also an idea from the Bible that the people would prepare their town when a king was coming) by inviting each member of the family to give one thing away through every day of Advent. Books, toys, games, clothes–every day we each find an item and give it away. Yes, it clears out some literal space for the literal gifts we will receive on Christmas Day. But I hope it also clears out some space in our hearts to think about the gifts that Jesus asks for from us, the gifts of love and care for other people and the gift that Jesus gives us in loving us not for our stuff–our appearance, our work, our achievement–but in and of ourselves.

I'll write more tomorrow about another practice I'm going to take up for Advent this year, and I'll share a link so that you can receive the free Advent devotional as well.

What are you doing to get ready for Christmas?
Wednesday, November 29, 2017
Lesa Engelthaler in a helpful post about how prayer and action must go hand in hand: Are Thoughts and Prayers Enough for a Troubled World?
Thursday, November 30, 2017
It isn't always clear whether December is a season of giving or getting. Still, I'm trying to approach it personally and as a family as a time to give and receive. I mentioned yesterday that for the past few years we have given away one physical item per family member during Advent, and we plan to continue that this year.

But we also talk on December 24th, during our "birthday party for Jesus" about the gifts we have given to Jesus over the course of the year. We read the passage from Matthew 25 where Jesus talks about how when we visit prisoners, we visit him, when we feed the hungry, we feed him. In other words, to give a gift to Jesus is to care for someone in need. Or perhaps a better way to say it is that to give a gift to Jesus is to respond to other human beings as human beings.

I just read this article from Christianity Today about giving, and I was struck by this statistic: "Some 60 percent of the people they surveyed who live below the poverty line gave something, versus 32 percent of those above that line."

I suspect that most readers of these posts live above the poverty line, and the challenge–no, not the challenge, the invitation–to us this season is to give generously. We give out of what we have been given, not only of our money but also our time and resources, and perhaps most importantly of our love. No matter our financial status, Christmas is the time to receive the love of God so that we can freely and generously give it away.
Thursday, November 30, 2017
As the holiday season begins, I have a gift for you!

I've compiled 25 days of readings and reflections through the Advent season. Yes, they take you through the Bible stories about Jesus' birth. They also cover topics like anxiety, drinking too much wine, ordinary hard days, the importance of gift giving, the joy and wonder of the season, and how we can love one another. Some are serious, some are humorous, some are taken from old blogposts and some are new.

Starting tomorrow, every day I'm going to post a short thought and question related to that day's reading. I hope you'll join in the conversation.

If would like to join me for this walk through Advent, click this link. (If you already receive my monthly newsletter, check your email inbox for a message from me.)

And please invite friends to join us. This is a free gift that I would love to share far and wide.