Are messy diapers, loads of laundry, and sleep deprivation part of your life right now? Nine years ago, Small Talk was published, and I just got to record it as an audiobook.
Small Talk: Learning From My Children About What Matters Most is a book about parenting.
It's a book about faith.
It's a book about being a parent of a child with a disability.
It's about finding out that God is present in the midst of a lot of messy diapers and dishes and messy thoughts and prayers that don't even get spoken because you're too tired.
I would love for you—especially if you're a parent of young children or a parent of a child with a disability—to check out Small Talk. It was just released on Audible this week.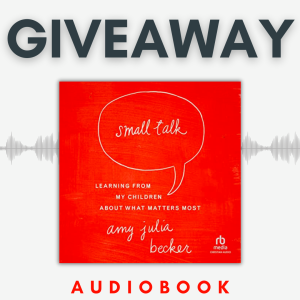 To celebrate, I'm giving away an audiobook. To enter to win, just comment with an emoji that describes your parenting years or tell me why you want to win the book!
This giveaway ends on Monday, June 5, 2023, at 11:59 pm ET.
---
More with Amy Julia:
If you haven't already, you can subscribe to receive regular updates and news. You can also follow me on Facebook,  Instagram, Twitter,  Pinterest, YouTube, and Goodreads, and you can subscribe to my Love Is Stronger Than Fear podcast on your favorite podcast platform.