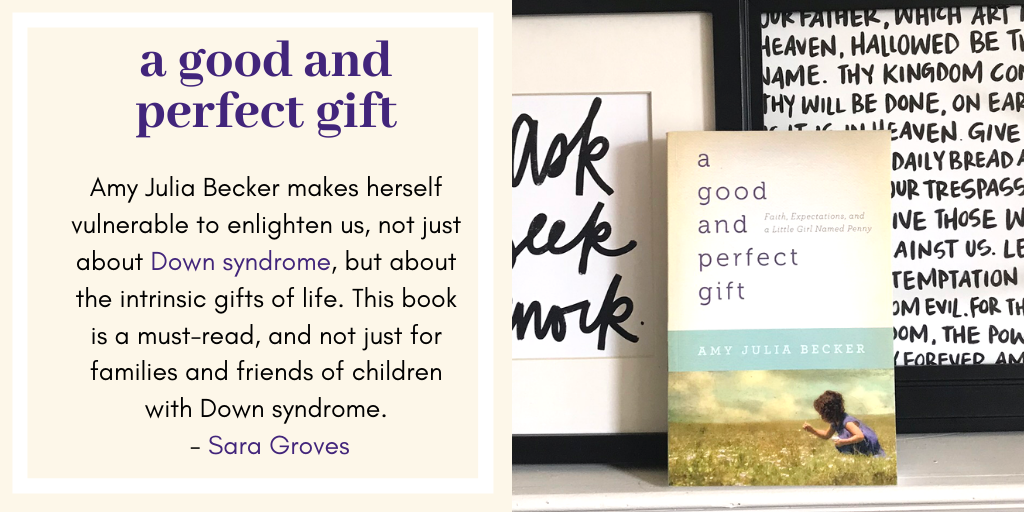 As I read this book, I realized what a gift it is to walk through this story with such an incredibly candid guide! Amy Julia Becker makes herself vulnerable to enlighten us, not just about Down syndrome, but about the intrinsic gifts of life. Amy Julia's daughter Penny is the pure heart by which many assumptions are exposed. My favorite moments are the conversations with friends and family that flesh out the important difference between pity and compassion. This book is a must-read, and not just for families and friends of children with Down syndrome. — Sara Groves
I wrote A Good and Perfect Gift: Faith, Expectations and Little Girl Named Penny back in 2011. I am grateful for the many people who have not only enjoyed, but been impacted and encouraged by my memoir including artists like singer/songwriter Sara Groves. As she points out, I didn't just write this book for people personally touched by Down syndrome. I hope instead that through this book we are all reminded that we are limited in our own ways and loved more than we can imagine.
Since Sara Groves wrote this endorsement, we had the chance to be a part of The Porter's Gate project together. She and other musicians created songs based in part on the conversation that I and others led about what it means to build community and love our neighbors. I highly recommend giving the new album a listen.
If you haven't read my book already (or even if you have), I am giving away three copies on October 31, 2019. To enter to win, you must submit by October 30 at 9pm EST over on Instagram (full details there). That only leaves a few hours from when this post goes live, so get on it! Penny and I will both write personal notes to all the winners. Good luck!
If you haven't already, please subscribe to my newsletter to receive regular updates and news. You can also follow me on Facebook, Instagram and Twitter.