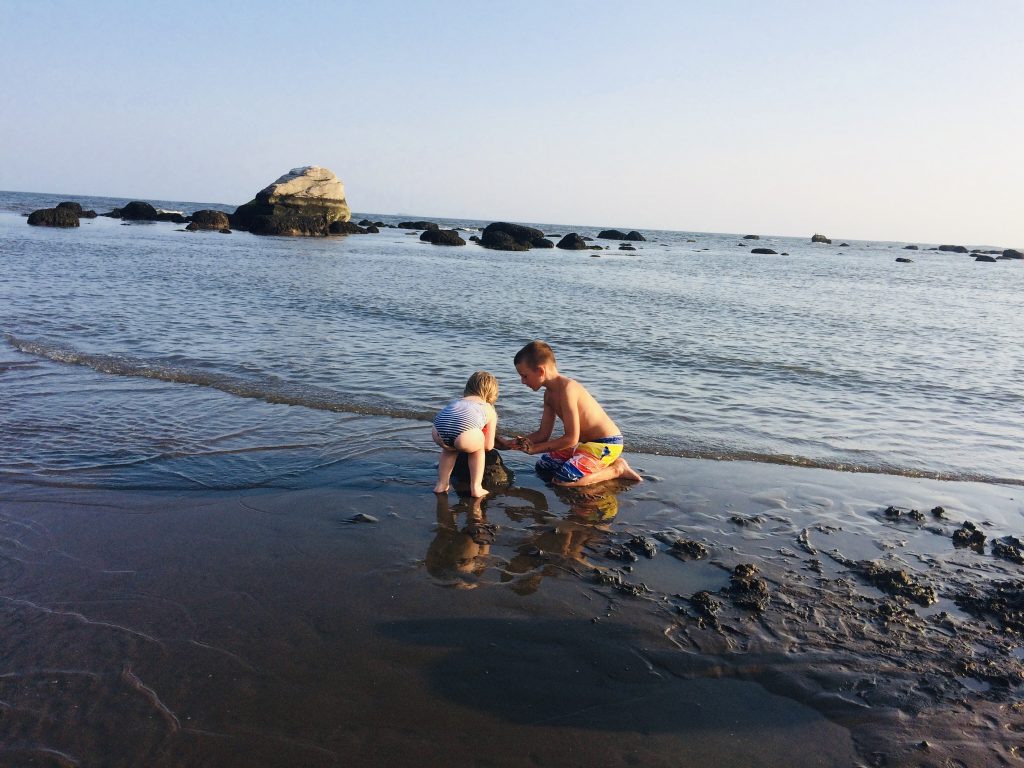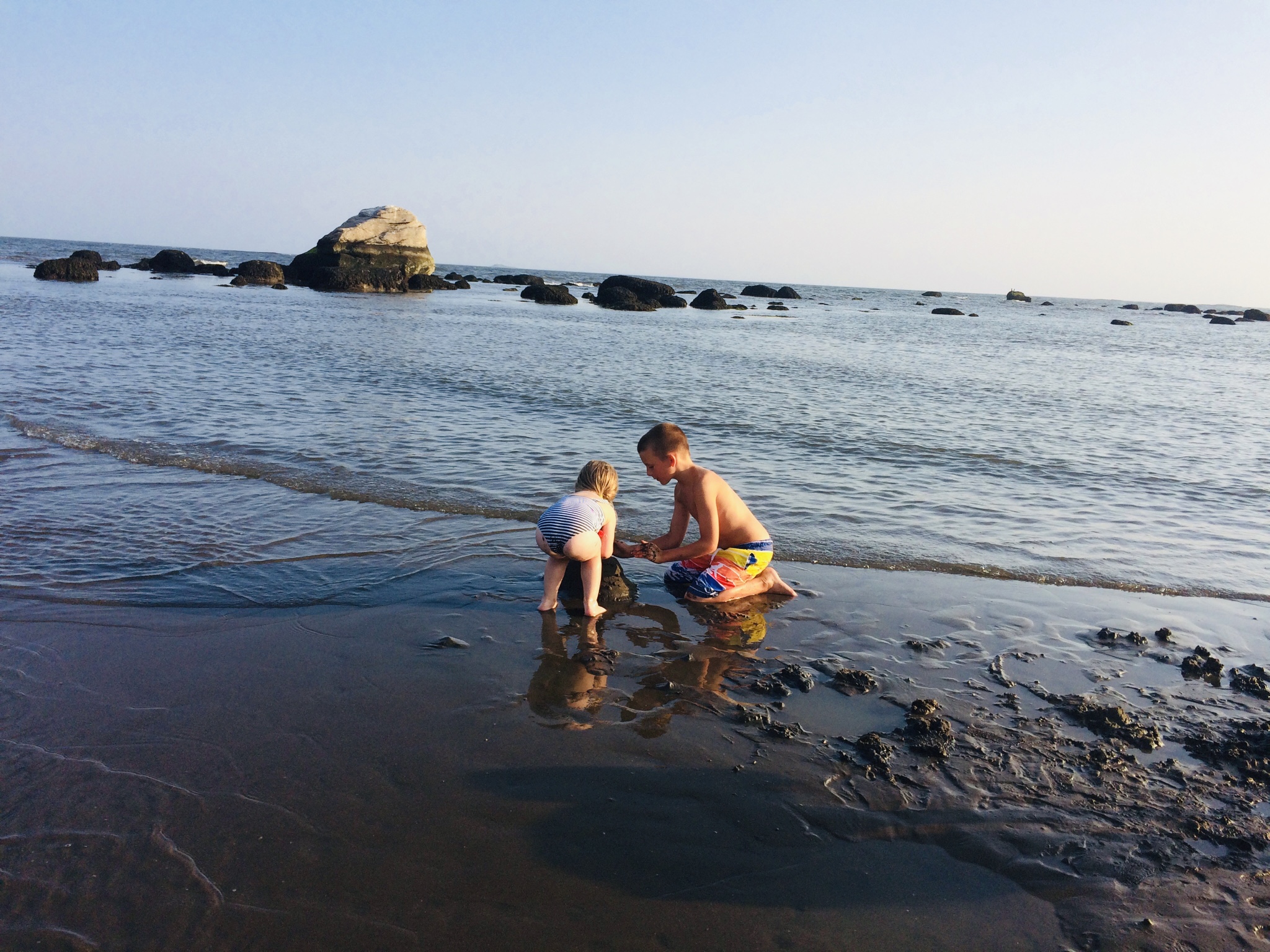 Candy, mindless scrolling through my phone, checking email instead of working on something of substance, avoiding exercise and time outside, keeping conversation light instead of asking the deeper and more interesting questions… I so often live in this shallow place, but the reason I write is as an invitation to myself and to others to go deeper and to find the wonder and joy of that deeper place. A reader reminded me of what I wrote about this topic a few years ago for Christianity Today, and I wanted to share it again here:
In March, we went on vacation as a family. It was a beautiful trip—clear skies, blue water, white sandy beaches. The resort where we stayed offered a "kids club" in the morning, so I had time for walks by myself and with Peter, for naps in the shade of a palm tree, for times of prayer, for reading lots of books. It was extravagant and luxurious and strangely challenging all at the same time.
Every day after camp, our kids wanted to go to the pool. They wanted to jump into the safe, contained, semi-toxic water. They wanted to dive for rings on the pool's concrete floor. They wanted to get a drink at the poolside bar. Every day, we tried to cajole them toward the ocean instead. The ocean, filled with rocks and coral, teeming with life. This vast expanse of water required our respect and our attention with its powerful waves, its constant motion. They liked it once we were there—the feeling of their toes in the sand, the sight of hermit crabs scuttling across the beach, the pulsing rhythm of the water. But even then, every day, they wanted to go back to the pool.
I want to teach our children, and I want to challenge myself, to swim in the ocean. I mean this literally, but I also mean it in every other aspect of our lives.
The easiest area to see this tension in our lives is with food. Recently, our kids have been offered candy at every turn—Easter eggs in the backyard from the church youth group, Easter candy from aunts and uncles, Easter candy in Sunday school, and more from a family egg hunt. Jellybeans, Starburst, Twix, Peeps. Tastes great. Rots their teeth. Gives a burst of energy. And then a crash. They would always choose candy over, say, the lentil soup I offered last night. They would always choose donuts over scrambled eggs, cake over a turkey sandwich. And yet it's the eggs, the soup, the sandwich that actually fuel their bodies, and that ultimately allow them to develop an appreciation for the glories of the diversity of tastes and textures out there for them to enjoy.
The same can be said for television. My kids have all figured out how to navigate the kids section of Netflix on our TV. They gravitate toward shows that resemble those same candies I mentioned above—big-eyed cartoon figures with colorful outfits and valley girl accents. But I tell them they have to watch shows where they actually learn something, like Wild Kratts, or where there's a semi-substantial story line, like Angelina Ballerina. They usually try to come up with some reason why Strawberry Shortcake is educational, but I'm not buying it. When it comes to books, there's also plenty of junk out there, words that are easy to consume without thought.
As an adult, I find myself gravitating towards these same places—eating the candy bar, scrolling through Facebook instead of reading one of the novels on my bedside table, letting a dinner conversation stay light instead of engaging topics that might challenge us. It's not just me, and it's not just my kids. The books that fly off the shelves are the ones that keep us on the surface of a mystery or a scintillating adventure. The movies that make millions generally do so via sex and violence. The food companies that make billions aren't selling organic produce.
It all makes me wonder—why are we so afraid of the ocean?
In Psalm 42, the psalmist writes, "Deep calls to deep in the roar of your waterfalls." It's a bit of a cryptic line, in the midst of a psalm about loss and longing and a soul that is inexplicably downcast. And yet I wonder whether this poetic phrase might tell us something about why we all are tempted to stay away from deep water.
To stay in God's presence is like swimming in the ocean. Immense. Frightening. Powerful. Beautiful. Where deep calls to deep. Where answers don't come easily. Where pain is exposed rather than covered over. Where healing requires transformation.
I think the reason I gravitate toward sugar and fluff, and the reason my kids do, and the reason our culture does, is that we want to avoid the dangerous truth that God is God and we are not. Whether it's food, chitchat, hours on Pinterest, or watching mindless television, we have constructed countless ways to avoid looking at the mess and brokenness within our souls.
We live in a world where it is easy to avoid the hard questions, to ignore our own selfishness, to fill our days with busy but meaningless activity. Deep calls out to deep, but sometimes I long to stay shallow.
Every day on vacation, we let our kids swim in the pool. But we also insisted that they spend some time near the ocean—looking at it or swimming in it or just squatting as the waves rolled toward their toes. I hope we were cultivating in them, and in ourselves, respect for its power, humility in the face of its beauty, and joy in its delightful and ongoing invitation to play. Deep calls out to deep, even in the midst of internet distractions and fast food restaurants and mind numbing entertainment. Deep calls out to deep, and we are all invited to enter in.