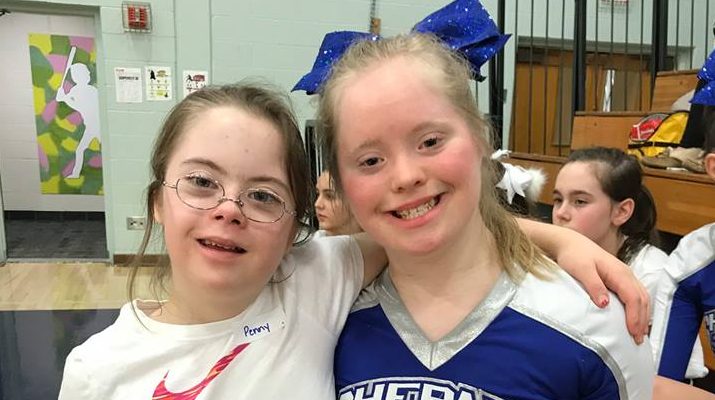 For many years, if you asked Penny what it meant to have Down syndrome, she would not say a word and instead drop into a full split. We had told her that Down syndrome came with some challenges like ear tubes and glasses and taking longer to learn some things. She mostly ignored that. We also told her Down syndrome came with low-muscle tone, which in her case meant she was very flexible and could do various contortionist moves as well as a full split. She paid attention to that, and therefore, in her mind, Down syndrome equals doing the splits.

Earlier this week, Penny attended a cheerleading clinic at her school. Little did we know that would result in her doing a full split in center court at halftime of the boys varsity basketball game that night (yes, I missed the whole thing but thankfully other moms took pictures!). Not only did Penny get to show off one of the perks of her extra chromosome, but she was able to do so next to her friend Alicia.

Alicia is a senior who also has Down syndrome (watch the video to see a little bit of Alicia in action). She's a member of the cheerleading squad, and Penny has been enamored with her since day one of middle school. Yesterday, Penny and I talked about what it means to have a mentor–an older person who has had similar experiences in life so that person can offer advice and encouragement. We talked about inviting Alicia over so that she could answer questions about having Down syndrome and navigating the social and academic world of middle and high school.

For Penny right now, having Down syndrome is not a big deal. Yes, she sometimes struggles in science class and it can be tricky to figure out how to insert herself into conversations at the lunch table. Yes, the next few years are likely to bring all the typical tween and teenager angst over identity compounded by the reality of a disability. But she can do the splits. And she can look up to people like Alicia with gratitude.