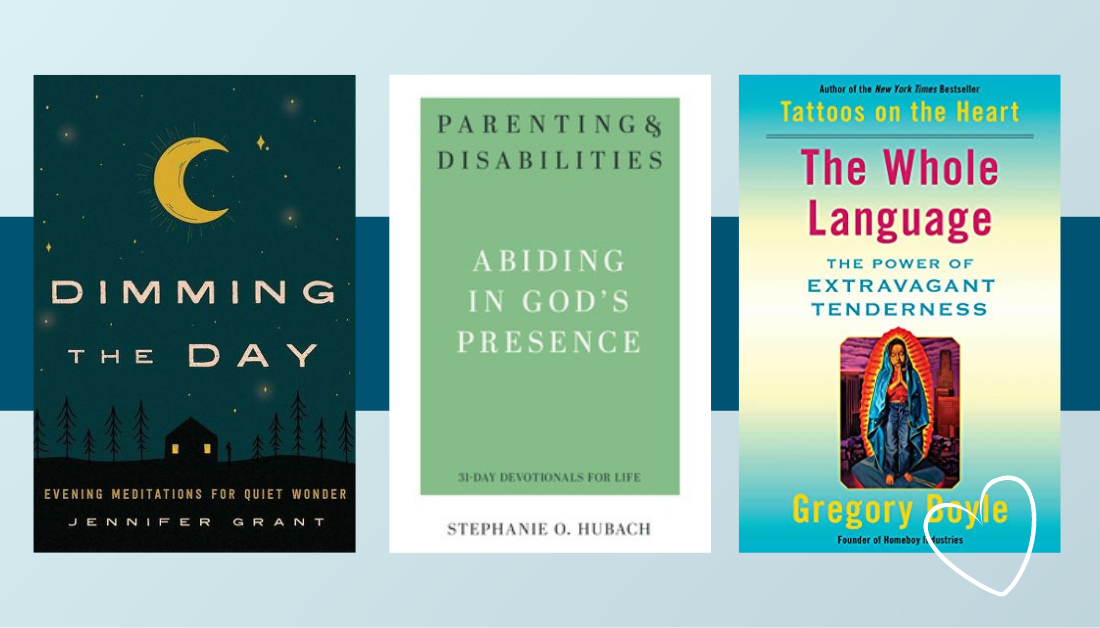 Ending the day without anxiety. Receiving spiritual truth and practical wisdom from another mother of a child with a disability. And entering into a story about the extravagant tenderness of God.
These are the invitations offered to me through three books I'm excited about right now:
---
Dimming the Day by Jennifer Grant. A beautiful end-of-day reading designed to welcome us into wonder and gratitude rather than the "normal anxiety" of everyday modern life.
---
Parenting and Disabilities: Abiding in God's Presence by Stephanie Hubach. 30-days of theological/biblical/practical life reflections written by a mom of a son with Down syndrome. She is also a research fellow in disability ministry at Covenant Theological Seminary.
---
The Whole Language: The Power of Extravagant Tenderness by Gregory Boyle. I honestly haven't even cracked the spine on this book yet (yes, I tend to aggressively crack the spines on books). But I know from reading both of Boyle's other memoirs—Tattoos on the Heart and Barking at the Choir—that I will be riveted and grateful and brought closer to the heart of God when I dive in.
---
Book Recaps
In other news, I finished Bewilderment and I was both haunted and disappointed by it. Just started Crossroads by Jonathan Franzen, the story of a minister in the 1970s. I know Flannery O'Connor said the South is Christ-haunted. Sixty years later, I'd say the nation is Christ-haunted, or at least the people writing good novels seem to be.
---
This post contains affiliate links.
More from Amy Julia:
If you haven't already, you can subscribe to receive regular updates and news. You can also follow me on Facebook, Instagram, Twitter, Pinterest, YouTube, and Goodreads, and you can subscribe to my Love Is Stronger Than Fear podcast on your favorite podcast platform.