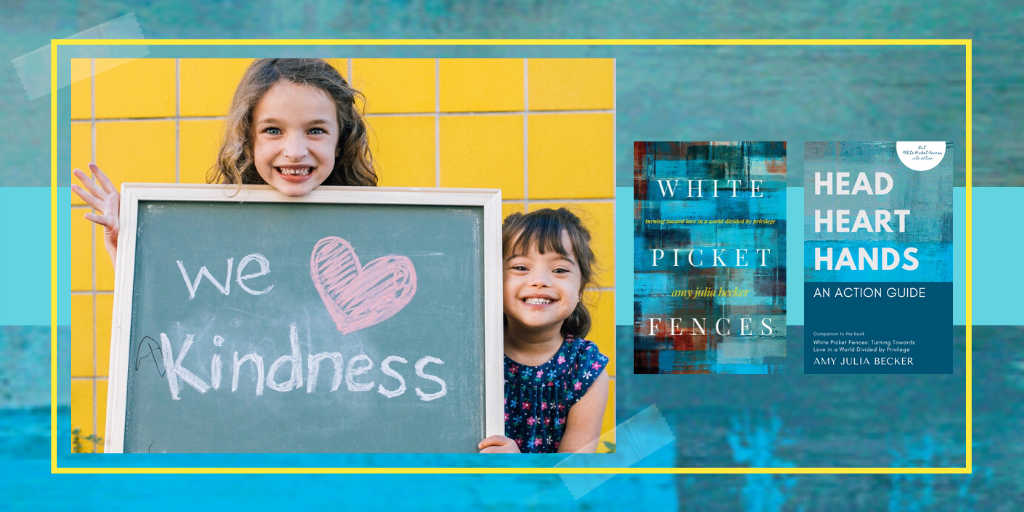 Creating a More Equitable World is part of a series of posts I'm sharing, written by people who read White Picket Fences and responded to the themes of the book in their local community. I've recently published an Action Guide to accompany WPF (you can download it for free here), and these posts will also offer real-life examples of how people are participating in the long, slow healing work to overcome the harm of social divisions. Today I've invited Katie Kishore to share a bit of her story. 
As a widow with two young daughters, including Kiran, my five-year-old with Down syndrome, books often sit on my bedside table longer than I'd like to admit. I am certainly not one to read books twice, unless it is the Llama Llama series at the request of my daughters. But I flew through White Picket Fences once and then felt compelled to read it again. I then ordered 20 books to give away to friends over the holidays. 
An Inequitable World
Like Amy Julia, I grew up achieving, working hard to be the best, and receiving praise for my efforts. But Amy Julia seems to have spent more time at the library with paper and pen in hand while I spent countless hours on soccer fields and basketball courts. And while Amy Julia lived in a world of private schools and fancy vacations, I am the daughter of two public school teachers.
However, I too, have been immersed in a world of race and class privilege from birth. I worked hard and excelled in a variety of ways, and as a child I was quick to frame my achievements as badges of merit, but as I grow older it became clear that my childhood narrative is an oversimplification of the truth. My life, like so many others around me, has benefited from and continues to benefit from unfair institutional and cultural systems that lift up some and oppress many.
Creating a New World
Like Amy Julia, I have a daughter with Down syndrome who has stolen my heart and continues to amaze me, challenge me, and reveal a new world to me. Her presence in my life has prompted me to rethink the assumptions I've always accepted as truth, like the need to be in motion (aka hustle and be busy), the pursuit of individual successes (aka work hard to be the best) and a commitment to right over wrong (aka assuming there are only two options – right and wrong). I've begun to recognize that these cultural values are evidence not only of my able body but also evidence of the white dominant culture within which I was raised. Kiran has helped me to see the value in slowing down, prioritizing community, and recognizing complex truths for what they are. 
I want to be a part of creating a more equitable world where our social structures provide opportunities for everyone to participate and also create healthier and happier communities and individuals. As I move forward in my personal and professional endeavors I often think of Amy Julia's statement that this work requires patience, humility, and full participation from our heads, hearts, and hands.  
With My Head
With my head I am heeding the advice of a trusted friend who identifies as Chicana and teaches college courses on racism. She advises, "Read books by people of color, click on the articles about injustice, find out more about the history of our city and take the time to learn."
I've been reading more authors of color, been consciously naming race and injustice with my girls, and researching communities that include adults with and without disabilities. I'm investigating how we (white, able-bodied adults) are harming ourselves by not allowing others to fully contribute to and shape our culture. 
With My Heart
With my heart I am remembering the work and life of Jean Vanier who established 147 L'Arche communities around the world where adults with and without disabilities live in community. As Vanier would encourage, I'm seeking connection with those who are different than I am.
Sometimes those actions seem very small—consciously introducing myself to parents of color at a birthday party and back to school night, learning the names of retail workers with intellectual disabilities when I encounter them. Sometimes that means slowing down and sometimes that means being uncomfortable, but it has led me to a deeper understanding of our shared humanity.
These connections and friendships have provided me with a greater appreciation of what marginalized communities have to offer dominant culture when we create the space.
With My Hands
Finally, with my hands I'm finding small ways to engage in work that seeks to create a world where all people are treated with dignity and provided opportunity. I host Raising Race Conscious Children webinars, participate in the work of inspiring black women neighbors (check out Lashundra Morsberger and Bellamy Shoffner), and am starting a nonprofit coffee shop that will employ adults with cognitive disabilities—Kindness Cafe + Play.
While I recognize that a world with real equity is unlikely and significant change requires generations of work, my community and I also know that to simply stand in the river is no longer an option. We don't want to float down this stream. We want to walk upstream, even if slowly. We are seeking justice, equity, and healing.
Thank you to White Picket Fences for opening our hearts, challenging our minds, and inspiring our hands.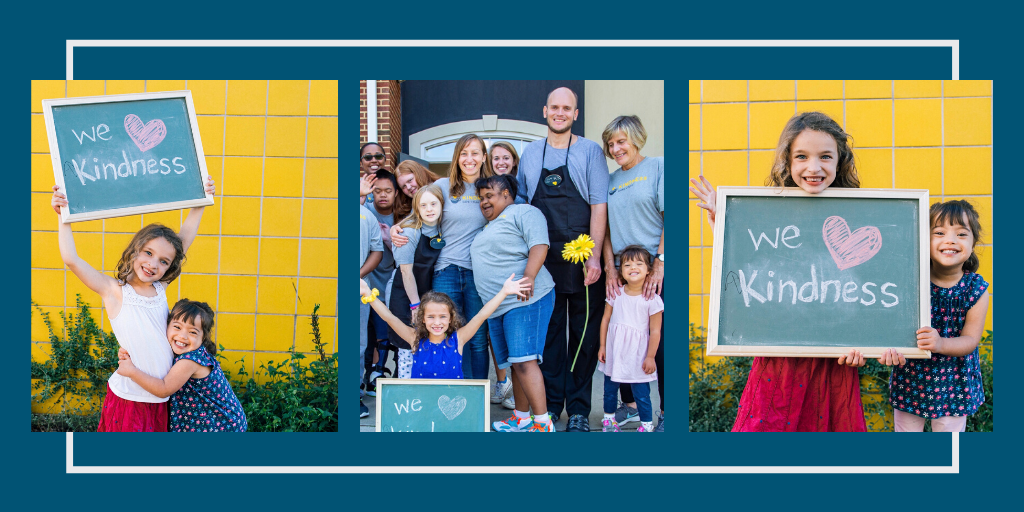 Katie's younger daughter loves books, singing, and her grandparents. Her older daughter loves art, playing soccer, and her cousins. They are all looking forward to the opening of Kindness Cafe + Play in early 2020 in Charlottesville, VA.  
……..
The guest posts in this series also focus on healing from racism, as well as the long, slow work of healing social divisions.
If you haven't already, please subscribe to receive regular updates and news. You can also follow me on Facebook, Instagram, and Twitter.