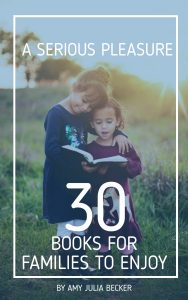 "Don't think you need to become a bookworm in order to enjoy these books or this time with your kids. Just read, a little bit, and see where it takes you."

These words come from my new (free!) ebook, A Serious Pleasure: 30 Books for Families to Enjoy. Click here to sign up for a copy (and please let other people know about this free resource if you think they'd enjoy it).

I've had parents say before that the reason they don't read with their kids is that finding 30 minutes before bed seems impossible. I agree! But finding 10 minutes seems like something that could happen, and 10 minutes every day really adds up. Some nights that's all we have. Some nights we don't even do that. And some nights we're so entranced by whatever story we are reading that we plow through bedtime to find out what happens.

But the time, no matter how small or large, gives us a way to share a story. It gives us something in common, that cuts across the generations and whatever arguments we were having earlier in the day. It gives us a moment of peace and rest and delight.