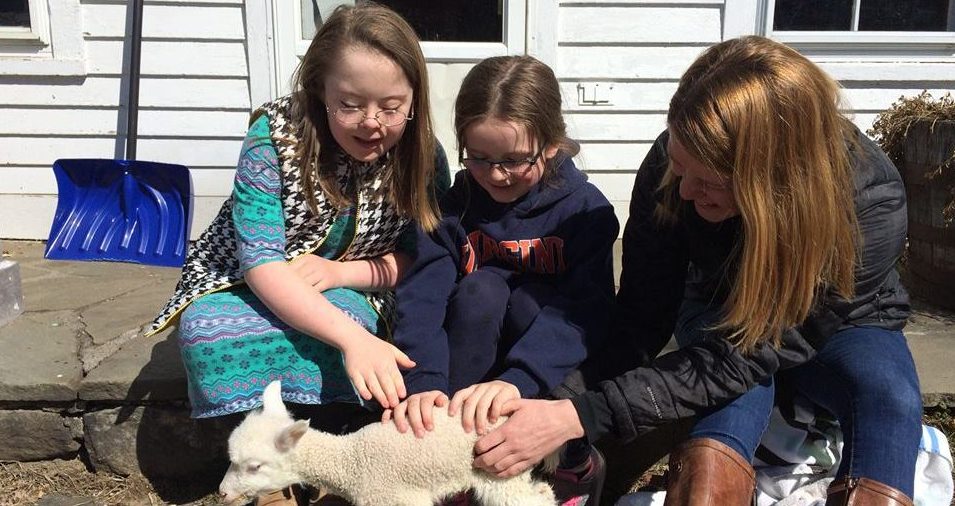 Once a week I compile the reflections I've offered on Facebook into one blogpost. Here are the thoughts from the past five days:
Monday, March 19, 2018
Penny and Marilee and I had a girls' day yesterday. They had a friend sleep over, which involved milkshakes and making up dances and watching High School musical. We all went to church, and then one of the girls' favorite babysitters invited us over to her house so they could feed a newborn lamb. We proceeded from there to Bounce, where the girls scampered and jumped and argued and helped each other out. That evening, we enjoyed some Lenten music at our church, ate leftovers, read a chapter of A Wrinkle in Time and went to bed.

Nothing extraordinary. A lovely day.

But it was also a day that got me thinking about an article I read last week in the Washington Post, an article in which Ruth Marcus wrote about how women need the right to abort babies with Down syndrome. Marcus wrote in opposition to recent laws various states have passed to ban abortion on the heels of a prenatal diagnosis of Down syndrome.

She writes, "Most children with Down syndrome have mild to moderate cognitive impairment, meaning an IQ between 55 and 70 (mild) or between 35 and 55 (moderate). This means limited capacity for independent living and financial security; Down syndrome is life-altering for the entire family. I'm going to be blunt here: That was not the child I wanted. That was not the choice I would have made. You can call me selfish, or worse, but I am in good company. The evidence is clear that most women confronted with the same unhappy alternative would make the same decision."

I've written before about why I disagree with these laws, and I could write an entirely separate post to refute some of the logic embedded in this article and even just these sentences.

But what I realized when I read this article was how much I want to stop arguing about the legality of abortion.

It's not that I want to stop talking about abortion altogether. The bearing of all human life is meaningful, life-altering (to quote Ruth Marcus), frightening, and filled with potential for sorrow and joy. It is crucial that we talk about what it means to conceive life, and when and whether we ever should end life.

But I wonder whether all the heated rhetoric about the legality of abortion keeps us from discussing the ethics of abortion. I wonder whether we are so focused on legislating what a woman is allowed, or not allowed, to do during pregnancy that we neglect to have conversations, tell stories, ask questions, and invite women to explore the possibilities available to them.

I'm not writing this to argue a political pro-life or a pro-choice position. But I am writing to ask women to consider whether the day I described with our daughters — a day that involved, friendship, community, laughter, physical exertion, good food, and fun–might serve as a way to imagine life with a child with Down syndrome in different terms than the ones used by Marcus above?

Instead of "unhappy," "limited," and "not wanted," I say happy, possibilities, and deeply loved.

Again, I don't share this story in an attempt to challenge a law, and I certainly don't share it in an attempt to bring shame or fear or guilt to any woman who has faced a prenatal diagnosis of Down syndrome. But I do believe we need to stop letting our political positions dictate the arguments we have about abortion and allow space for an ethical discussion of the value of human life, the rights of women, the role of society in supporting women and children, and the role of society in supporting children and adults with disabilities. Maybe if we talked more about stories and less about the law, we would compel (but not coerce) more women to choose life.
Tuesday, March 20, 2018
So this story about a girl performing on American Idol with the support of her best friend, a young man with Down syndrome, sums up a lot of what I try to write in words about the gifts inherent in every human being, if only we have the eyes to see them, if only we take the time to notice them, if only we believe those gifts are present, and if only we have the humility to receive them.

Wednesday, March 21, 2018
Today is World Down Syndrome Day! I had the chance to write about why we don't just celebrate Penny but her whole community for abcnews.com.

"For a long time, I liked the idea that Penny was exceptional. When she, for instance, won a spot in her school's spelling bee in 3rd grade, I was tempted to pat myself on the back for all those books we had read together. When she overturned expectations through minor achievements — learning to tell time, having a sleepover, rinsing the conditioner out of her hair, competing in a swim meet — I was inclined to believe she had won some genetic lottery. Penny's disability produced plenty of challenges, but her hard work paid off. When we worked toward a goal, she met it, slowly but surely.

But I have come to realize that Penny's relative independence and her sense of confidence and well-being have arisen not because she comes from overachieving parents or because she has good genes. According to standardized tests, Penny has an intellectual disability that usually translates to less independence, confidence and learning. But while IQ scores offer one data point about an individual, a loving and supportive community matters much more."

Read more here and please share with anyone who might enjoy!
Wednesday, March 21, 2018
Wednesday, March 21, 2018
On World Down Syndrome Day, Marilee is feeling a little bit, shall we say, overshadowed. Penny pipes up, "Let's have a World Marilee Day!"

Marilee agrees: "Everyone can be very happy. That's what my name means."
(At which point, Penny reminds her of the times we need to call her Grumpilee.) (Photo of Marilee on a cold night at the beach. We have called her our barefoot girl for many years now.)
Thursday, March 22, 2018
Two more resources on the heels of World Down Syndrome Day:

One, Micha Boyett, Heather Avis, and Mercedes Lara have just launched a new podcast called The Lucky Few, featuring stories and interviews and advocacy around Down syndrome. Here's the first episode.

Two, Jenni Newbury and Camp PALS launched a new, beautiful book called "The Congratulations Project." It is filled with gorgeous photographs of people with Down syndrome and their friends and families alongside letters they have written to new parents of babies with Down syndrome in order to offer their congratulations. I showed Penny this book online because she has written notes to people in the past (including Micha Boyett, mentioned above!) to congratulate them and offer a little advice when their children were born. She ended up enjoying this book in its own right. So whether you are a new parent (or know a new parent) or just enjoy seeing people with Down syndrome living their lives, this book is a great gift (you can also donate a copy to someone who needs it).
Thursday, March 22, 2018
Marilee and I just finished reading A Wrinkle in Time together, for the second time. She doesn't remember it from when she was four, and this time we were both equally riveted by the drama of a family separated by forces of darkness and the desperate hope that love is stronger than hate. I wrote an essay about A Wrinkle in Time and the way it–and other books–can introduce our kids to the concept of evil and offer ways to try to understand, or at least engage the topic of, the darkness that erupts daily in our world. That essay, along with three others and along with 30 recommended books to read with your children, is all included in a new ebook I've put together called A Serious Pleasure: 30 Books for Families to Enjoy. This book is free, so please claim your copy using the link above and spread the word!