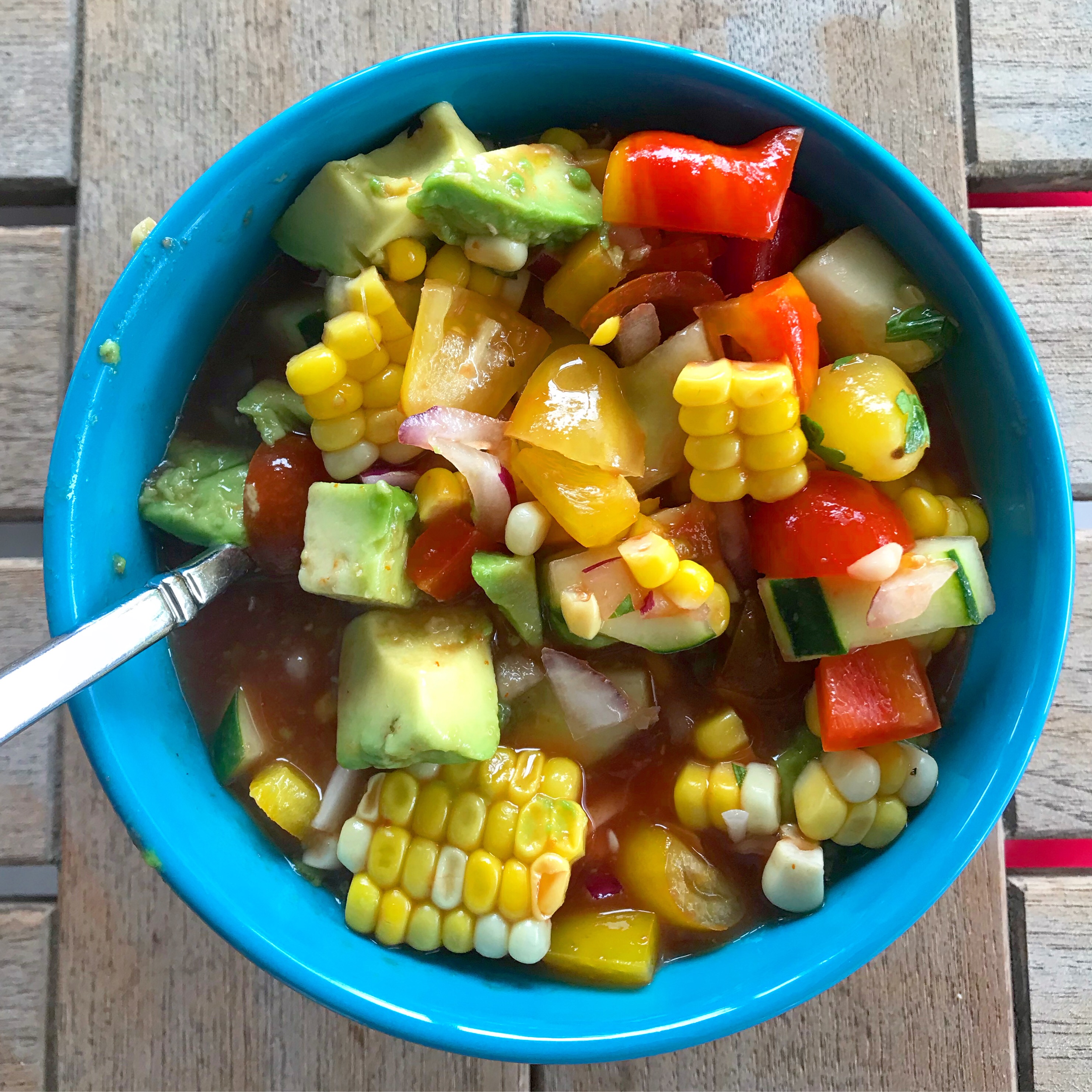 I am not a chef. I do not make complicated dishes. I repeat tried and true recipes to the point that guests will say things like, "Oh good! I really like this one." I have made a point of never learning how to grill so that at least one area of food preparation in the summertime is entirely dependent upon my husband. I'm also like Sally (Meg Ryan's character in the film When Harry Met Sally). Which is to say I tend to adjust (improve?) orders in restaurants and recipes, so I'm pretty particular about how things come out. 
My friend Elizabeth has been visiting our family this week, and she pointed out that one reason she looks forward to coming to our house in the summer because I always have a huge bowl of my own take on gazpacho in our fridge. She's asked me for the recipe, as have countless other friends. It's a very chunky "vegetable forward" version of gazpacho that I've tweaked (and dare I say perfected) over the years. 
As I head into a few weeks of vacation, I wanted to share this recipe so that you too can enjoy this simple, truly delicious, experience of summer.
A couple of notes:
Tomato quality matters. The better the tomatoes, the better the gazpacho, so don't skimp on the tomatoes. You can even use grape or mini-tomatoes so long as they have flavor. 
This tastes even better a day later as the flavors have had a chance to combine. I often make it the night before I plan to serve it.
---
AJ's Gazpacho Recipe
Ingredients:
½ of a red onion, diced

2 cups tomato juice

The juice from 2 limes (microwave for 20 seconds first to extract the max amount of juice and just to make the juicing process easier)

2 tsps minced garlic (about 1 large clove)

¼ cup olive oil

Salt and pepper to taste

2 cups of good tomatoes (2-3 medium sized tomatoes or 2 cups of heirloom grape tomatoes), cubed

2-3 red, yellow or orange bell peppers, cleaned and cubed (for the aesthetic I prefer orange)

2-3 medium cucumbers, peeled and cubed

4 ears corn, cooked (I usually just cook 4 extra ears the night before so everyone can enjoy corn on the cob and then taste that deliciousness again the next day)
Optional Add ons:
Avocados (I add right before serving. ¼ to ½ an avocado per person, diced)

Cilantro to taste (I almost always add this)

Tabasco to taste (my husband Peter particularly likes this variation)

2 cups black beans, rinsed and drained (to make it more hearty)

Greek Yogurt (in lieu of sour cream, or sour cream, if that's your preference!)
Directions:
First, dice ½ red onion and soak  in a medium bowl of ice water. Set aside for at least 30 minutes while you prepare the other ingredients to make the flavor more mild. Combine in a large bowl the tomato juice, lime juice, garlic, olive oil. Chop and add the tomatoes, peppers, cucumbers. Slice off the kernels from the ears of corn, allowing them to stay in larger chunks and add. Drain red onion and add. If adding black beans, rinse and drain before adding. Cilantro and Tobasco sauce can be added at this stage or left for individual servings. Salt and pepper to taste. If you have time, allow gazpacho to sit in the refrigerator for a few hours or overnight. Serve in bowls and add avocado, yogurt and other optional ingredients to each serving as desired. Enjoy!