Penny had her first day of work last week.
That's right. Work. Employment. Four hours, three days a week, at a local cafe and bakery. 
She made brownies and spicy walnuts and came home with traces of flour and sugar and chocolate.
I dropped her off on her first day. She squeezed my hand and said, "Mom, this is a dream come true." 
The state of Connecticut has a job program for teens like Penny. They coordinate with local businesses to find summer jobs. The local business pays minimum wage. The state provides a job coach. Everyone wins. 
This is what it looks like to assume that everyone can contribute, everyone belongs, and everyone can find ways to make their dreams come true.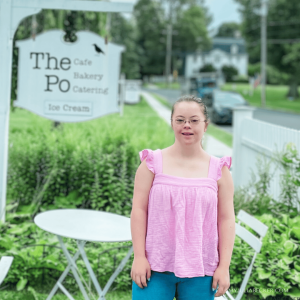 ---
More with Amy Julia:
Subscribe to my newsletter to receive regular updates and news. You can also follow me on Facebook,  Instagram, Twitter,  Pinterest, and YouTube, and you can subscribe to my Love Is Stronger Than Fear podcast on your favorite podcast platform.