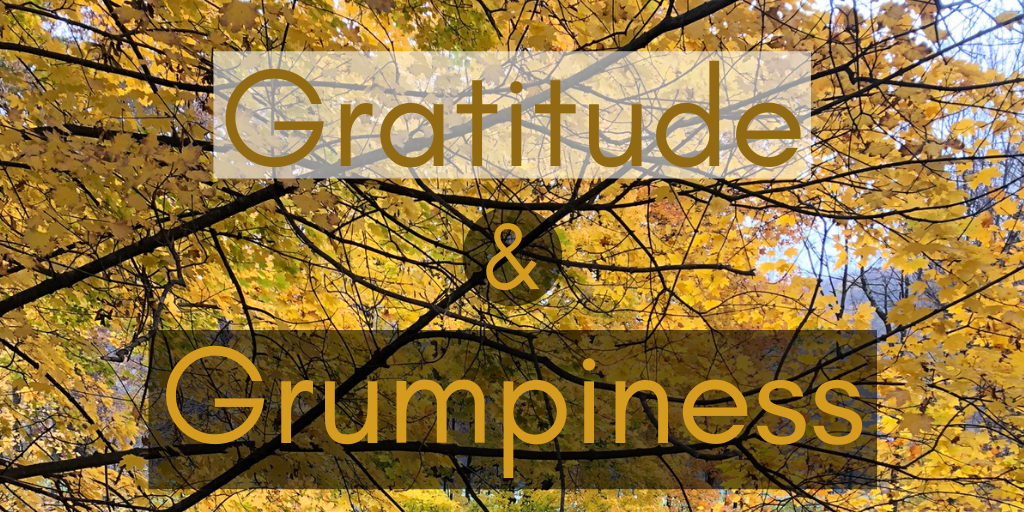 As easy as it is to rattle off a gratitude list, it's just as easy to rattle off a list of things that cause grumpiness. How is gratitude the antidote to grumpiness? 
A few years ago, we shared a Thanksgiving meal with my parents and two of their friends from church, an older woman and her grandson whom I will call Barbara and Cal. They lived in public housing nearby, and their apartment had caught fire. The possessions they were able to salvage sat in my parents' garage. Barbara and Cal were displaced and poor and didn't know when they would be able to return.
Naming Our Thanks
In the kitchen before the meal began, I suggested to my mother that we go around the table and offer something we were thankful for. Mom was uncomfortable with the idea. Our friends had so many reasons not to feel grateful right now. She didn't want to point out our prosperity or underscore their grief.
But it was Thanksgiving, and at least in our family, Thanksgiving includes naming our thanks as much as it includes pumpkin pie and mashed potatoes. When we got to Barbara, she said, "I could not be more thankful. I have a place to sleep. I have people like you who have helped me and cared for me and Cal. The Lord is good." Hers might have been the most sincere words at the table.
The following year, I visited my friend, whom I will call Anne, after she broke her collarbone and her neck in a biking accident. She came within a millimeter of death or paralysis, and she had a long recovery ahead of her. She had been a young, active, independent woman until she flew over her handlebars and found herself in a hospital bed. She couldn't bathe herself. Every step hurt. And when I visited her and asked her how she was feeling, she looked at me with wonder—that same look people get when viewing a sunset on top of a mountain—she looked at me and said, "I'm feeling grateful. I'm alive. You're here to visit me. Our refrigerator is full of food from people who care. I walked outside today."
Gratitude vs. Grumpiness
I don't always move through my days with that same sense of gratitude. It's not that there aren't things to be grateful for—the golden light and the rust and ochre and persimmon out my back door as the leaves change colors and float to the earth, the expressions of affection from each of our kids every morning, the delight of exploring new ideas, the security of falling asleep beside my husband each night. Although I can easily rattle off that list, I can also rattle off the reasons to feel grumpy: It is dark far too long in the mornings and the evenings now that we have turned the corner towards winter. The kids are too busy, always. Our evenings are too full. I cannot get even the basic things, like haircuts and dental exams, scheduled. I haven't seen my closest friends in weeks. I haven't talked to my sister in over a month. My jeans are getting tight.             
Gratitude requires two things. One, like my friends above, that I understand my own position as a dependent creature, as someone who relies upon the love and care of others, as someone who cannot and does not want to be self-sufficient and independent in all ways. And two, that I choose to give thanks instead of complain.
Gratitude is the antidote to grumpiness.
"Be thankful about everything," (Phil 4:6) Paul writes to the Philippians. These four chapters of the New Testament are known as an epistle of joy, and I could easily mistake Paul's words for a willfully optimistic and naïve view of the world. But Paul was in prison when he penned those instructions. He had a sense of his dependence on the God who saved him, on the people who brought him food while he was behind bars, on the churches like the one in Philippi with people who prayed for him from afar. He had plenty to complain about. And yet he chose to give thanks.
I want to be like Barbara and Anne. I want to be like Paul. I want to recognize my dependency. And I want to choose to give thanks day after day after day.
---
---
If you haven't already, you can subscribe to receive regular updates and news. You can also follow me on Facebook, Instagram, Twitter, Pinterest, YouTube, and Goodreads, and you can subscribe to my Love Is Stronger Than Fear podcast on your favorite podcast platform.