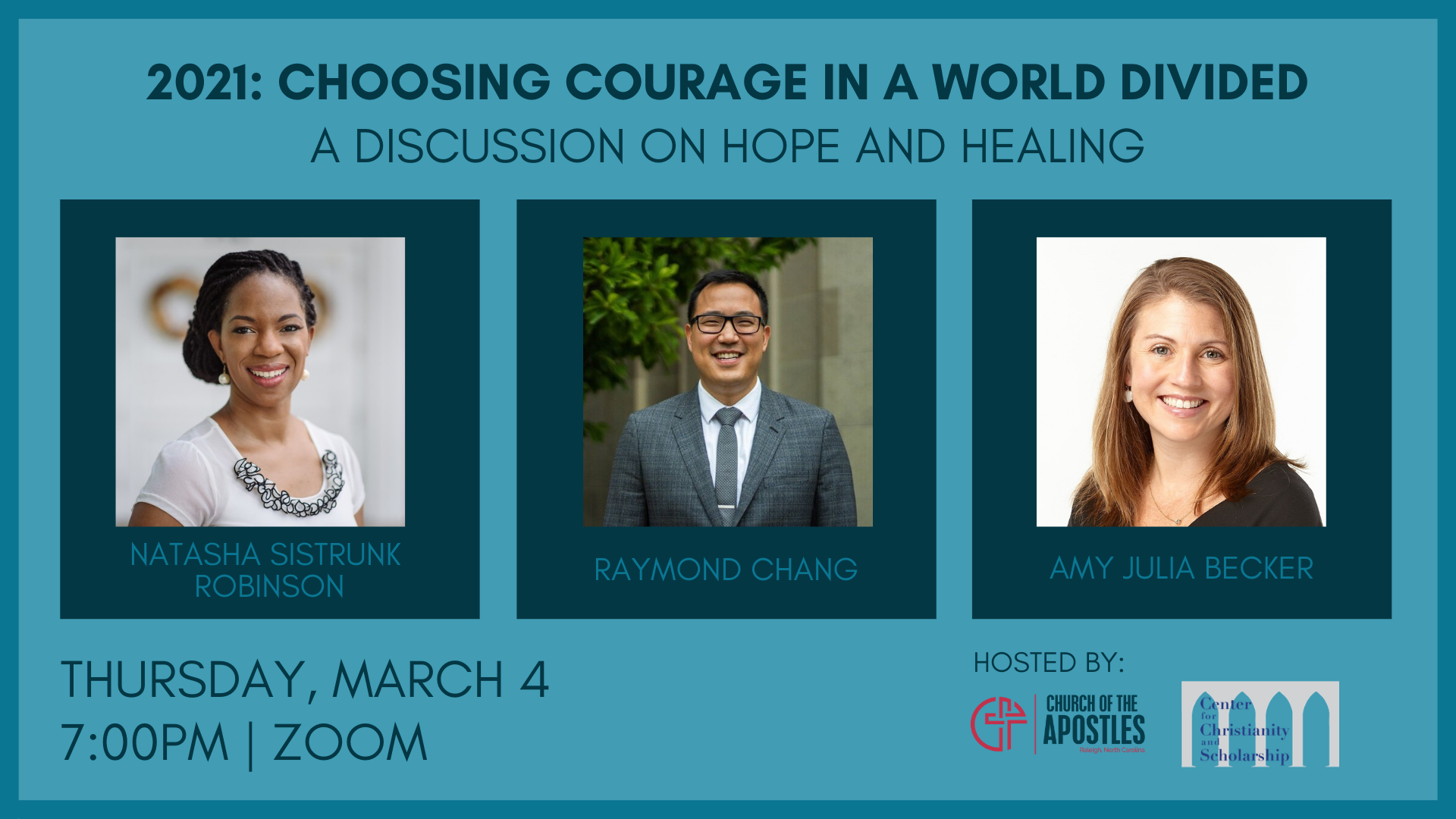 2021: CHOOSING COURAGE IN A WORLD DIVIDED
In January 2020, we gathered to hear Amy Julia and Natasha discuss the numerous divisions facing our country, as they invited people of faith to respond with courageous love to bridge those divides; we had no idea at the time what challenges would come in the year ahead. This year, we invite you to continue that discussion with our panel of speakers, as they help us reflect on the challenges of the past year, as well as identify new opportunities to courageously love our neighbors in the year ahead. They do not come with easy answers, but gently invite us to engage in this conversation, as we together move towards hope and healing.
Date: Thursday, March 4, 7 PM | Zoom
About the Speakers
Amy Julia Becker is a writer and speaker on faith, family, disability, and privilege. She is the author of four books, including White Picket Fences: Turning Towards Love in a World Divided by Privilege. She spent her childhood in Edenton, NC and now lives in western Connecticut with her husband and her three children. She is a graduate of Princeton Theological Seminary.  Amy Julia also hosts Love is Stronger than Fear, a podcast about pursuing hope and healing in the midst of social division.
Raymond Chang is the president of the Asian American Christian Collaborative (AACC), a pastor, and writer. He regularly preaches God's Word and speaks throughout the country on issues pertaining to Christianity and culture, race and faith. He has lived throughout the world (Korea, Guatemala, Panama, Spain, China), traveled to nearly 50 countries, and currently lives in Chicagoland, serving as a campus minister at Wheaton College. Prior to entering vocational ministry, Raymond worked in the for-profit and nonprofit sectors, and served in the Peace Corps in Panama. He is currently pursuing his PhD. He is married to Jessica Chang, who serves as the chief advancement and partnerships officer of the Field School.
Natasha Sistrunk Robinson is an author, speaker, former US Marine Corps captain, and Naval Academy Graduate. She is the author of A Sojourner's Truth: Choosing Freedom and Courage in a Divided World, Mentor for Life: Finding Purpose through Intentional Discipleship, and several other books and articles. Born and raised in South Carolina, she now lives with her husband and daughter in Durham, NC. She is a graduate of Gordon-Conwell Theological Seminary, and a current doctorate student at North Park Theological Seminary.