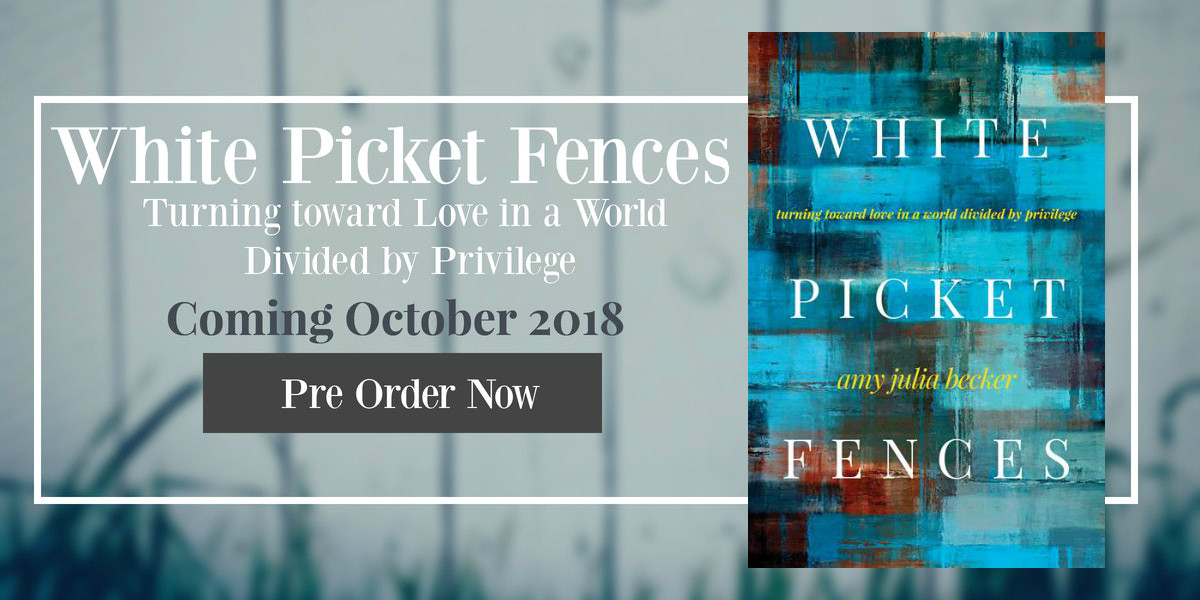 Privilege. We hear the word, and we flinch. For some, it's paralyzingly painful to think about. For others, the very thought of it evokes bitter resentment. For all of us, the notion that some people have it inherently better than others, and for entirely arbitrary reasons, seems insurmountable, unresolvable. And yet until we talk about this issue―really get into it―we'll never fully understand it, never find our way forward through it.
With honesty, humility, and grace, Amy Julia Becker introduces us to a childhood in a Southern state still finding its footing after the tension of the civil rights movement, and an adulthood in a Northern city whose social inequities have been carefully hidden from view. We're reminded that the white picket fences that seem so pristine and good and even virtuous can function as a wall, even a prison, that prevents us from knowing and loving our neighbors, and experiencing the world as it truly is and the God who invites us to carry a blessing into it.

---
"Amy Julia Becker gets to the heart of our most valuable moments with our children – the ones in which we laugh, cry, and marvel at the unexpected revelation of truth and joy in our everyday lives. Small Talk reveals how talking with our children about the most important things in life actually ends up growing us up just as much, if not more, than them."
-Gabe and Rebecca Lyons, Cofounders of Q and authors of The Next Christians and Freefall to Fly, respectively
"Small Talk is a gift to parents who long to connect with their children about the joys and everyday rituals that sustain us, as well as about the griefs that capsize our hearts…Thoughtful, wise, and engaging, Becker's work inspires me to live with intention and keep alert to the presence of God. Highly recommended."
-Jennifer Grant, Author of Love You More, MOMumental, Disquiet Time, and Wholehearted Living
"Amy Julia Becker does big things in Small Talk, delighting and challenging readers with stories of conversations with her kids' and the thoughts on life, love, and God that follow. Small Talk is a must-read for anyone who's ever learned about the bigness of life from the smallest of folks' or anyone who wants to."
-Caryn Rivadeneira, Author of Broke: What Financial Desperation Revealed about God's Abundance and producer and host of Midday Connection on Moody Radio
---
A Good and Perfect Gift: Faith, Expectations and a Little Girl Named Penny
A Good and Perfect Gift is loving, thoughtful, and full of just the kind of spiritual questions that so many family members – including those who aren't Christian, like me – have had, too. It's sweet and lovely, and I'm very glad it exists.
–Rachel Simon, bestselling author of Riding the Bus with my Sister and The Story of Beautiful Girl
Amy Julia Becker has the courage and grace to tell the truth. Whether you are a parent or not, whether the children in your life are "typical" or not, her story will shake you, change you, and encourage you. In a world obsessed with achievement and perfection, A Good and Perfect Gift opens the door to a much more excellent way.
–Andy Crouch, Author, Culture Making
It takes faith to turn an unmet expectation into something delightfully exceptional, and Amy Julia Becker learned to do just that when Penny was born. Poignant and powerful, the world needs more stories of inspiration like this one!
–Joni Eareckson Tada, Joni And Friends International Disability Center
---