I have been concerned about racial injustice and inequality in our nation for nearly forty years now. I grew up in a small town in eastern North Carolina. Growing up, the gentility of southern culture with its magnolias and manners offered me safety and comfort. And I noticed the discrepancy between my life–my education, our economic status, our freedoms–and the lives of the African American men and women in our lives. It wasn't until I was much older that I could put any thoughts to my experience, and I am still working to sort out the blessings of my childhood and the brokenness of the racialized climate in which I grew up. In light of the recent focus on race and justice in our nation, I wanted to mention five books that have challenged me, troubled me, and ultimately helped me to understand our nation's history and my own history, while also holding out hope for a transformed future:
Playing in the Dark by Toni Morrison: This collection of essays from the 1990s explores the presence of African Americans within "classic" (which is to say, white) American literature. Morrison's critique of and generosity towards these classics not only helps me to grow as a reader but also helps me to see the entire American narrative from a different point of view.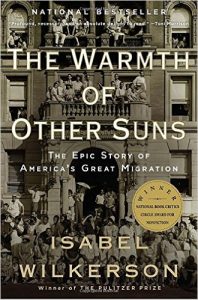 The Warmth of Other Suns by Isabel Wilkerson. Wilkerson spent fifteen years researching this history of the migration of African Americans from the Jim Crow South to the rest of the country. She traces three lives personally while offering intricate and thorough–and thoroughly heartbreaking and infuriating–details about the reality of the unjust system under which African Americans lived in the south and, later, to a lesser but still pronounced degree, in their new homes. I also highly recommend Wilkerson's recent interview with Krista Tippet.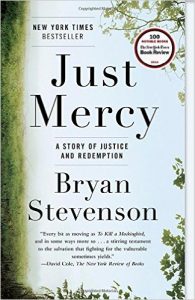 Just Mercy by Bryan Stevenson. Stevenson's memoir of his ongoing work as a lawyer for defendants on death row demonstrates the tragic nature of our legal system, but it also offers a story of hope. Stevenson not only demonstrates his own commitment to the cause of justice and mercy, but he tells stories of men and women–both white and black–who join in this commitment.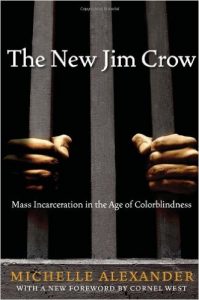 The New Jim Crow by Michelle Alexander.
I am listening to this book now, and each chapter offers a devastating critique of the policies of the past forty years when it comes to the "war" on drugs. Alexander makes a compelling case that the war on drugs has effectively served as a way to control the lives of "black and brown" men (and by extension, women and children and communities). She has convinced me that the current system of mass incarceration, minimum sentencing laws, and the prosecutorial and penal systems are in need of tremendous reform in order for justice to be served in our nation.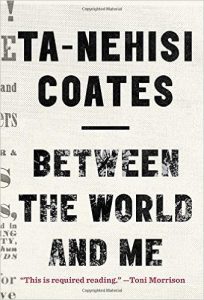 Between the World and Me by Ta Nehisi Coates. Coates' memoir is a small and powerful manifesto that identifies the ongoing plight of African American people in America. Coates writes in lyrical prose with passion and intelligence. Although I wish his words held more hope, part of what I need to reckon with as a white person in America is the hopelessness that many African Americans face in light of our nation's history.
These are tough books that confront difficult truths. My hope and prayer is that they also help lead us towards meaningful action and change.