Amy Julia Becker
Amy Julia Becker is the author of White Picket Fences: Turning toward Love in a World Divided by Privilege (NavPress, 2018). She is also the author of Small Talk: Learning From My Children About What Matters Most (Zondervan, 2014), A Good and Perfect Gift: Faith, Expectations and a Little Girl Named Penny (Bethany House), named one of the Top Books of 2011 by Publisher's Weekly, and Penelope Ayers: A Memoir. A graduate of Princeton University and Princeton Theological Seminary, her essays about faith, family, and disability have appeared in the Washington Post, USA Today, Christianity Today, the Christian Century, and online for The New York Times, ABCNews, the Atlantic, Vox, and The Huffington Post. Amy Julia is a member of INK: A Creative Collective. She lives with her husband Peter and three children, Penny, William, and Marilee in western CT.
Amy Julia on her writing
I have always loved writing. From my early years writing poetry as a kid in a small town in North Carolina, to expressing adolescent angst in the form of short stories in boarding school, to thirty-page essays as an English major at Princeton, reading and writing have just been a part of who I am.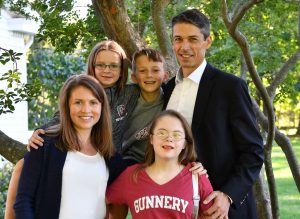 But it took a long time for me to think of writing as something I could do "for a living." A calling. A vocation. Something that would not only bless me, but also bless other people. And then my mother-in-law was diagnosed with cancer, and eventually I wrote a book about that experience. And from the book came a blog and from the blog came some articles and thoughts about another book and invitations to write some more.
A friend of mine regularly asks me to speak with her bioethics class about prenatal testing, abortion, and having a child with Down syndrome. When she introduces me, she always says that although I am a writer and a speaker, she thinks of me as a thinker. My writing is a reflection of years and years of thinking and rethinking topics, values, and assumptions. In fact, if I were trying to brand what I do, I would probably call it "Rethinking."
My first book, a self-published memoir that came out in 2008, was about the experience of caring for my mother-in-law after she was diagnosed with cancer. It was also about recognizing how hope and beauty can emerge even in the midst of pain. I have never liked the title of that book (Penelope Ayers, which was my default option because I wasn't brave enough to go with what I wanted to call it: Hope was Such a Fragile Place). And I don't much like this title either, but I could have called it Rethinking Pain.
The next book—A Good and Perfect Gift: Faith, Expectations, and a Little Girl Named Penny (Bethany House, 2011)—is a spiritual memoir that describes how I came to receive our daughter Penny, who was diagnosed with Down syndrome at birth, as a gift. That one could also have been called Rethinking Perfection.
Then came Small Talk: Learning from my Children about What Matters Most (Zondervan, 2014), a parenting memoir that could have been called Rethinking Parenting.
And now White Picket Fences: Turning toward Love in a World Divided by Privilege (NavPress, 2018), a book that could be called Rethinking Privilege.
But in all of these books, and in all of this thinking, I've really been considering, rethinking, what it means to be human. I've been learning to believe that we are gifts given to one another—old and young, sick and well, secular and religious, liberal and conservative, evangelical and mainline, gay and straight, disabled and able-bodied, rich and poor, black and white. When our particular humanity is not denied but our common humanity connects us, I believe we get a glimpse of the kingdom of God among us. These moments and spaces, these points of connections, are "thin" places.
The title of the blog I wrote for many years was "Thin Places." It comes from a Celtic Christian idea that there are physical spaces where heaven and earth touch, where God seems more readily present, more easily accessed. While I am no longer blog regularly, in books and articles I try to write about Thin Places-ideas, relationships, points of connection, moments with beauty and truth that draw us towards one another, and towards the Holy One.
To contact Amy Julia, please email amyjuliabeckerwriter@gmail.com.